Carla Hall's Mixed Greens and Pan-Roasted Butternut Squash Salad
Make This Delicious Fall Salad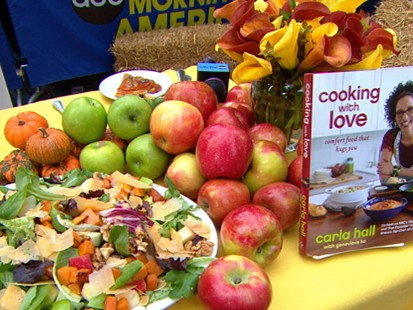 Star of ABC's "The Chew" prepares butternut squash Tarte Tatin and a mixed green salad.
From the kitchen of Carla Hall
|
Fall in a bowl! I just love the start of the season. When the harvest rolls in, I take all that gorgeous stuff- the heirloom apples and the squash- and pair them with end-of-the-summer greens. (a mixture of baby greens, baby romaine, a frisée is ideal here.) To get even more out of the apples, I pick up fresh cider from local orchards and reduce it into a beautiful syrup for the dressing. To balance that sweetness, I top this all off with savory sharp aged cheese.
For more great recipes from Carla, check out her cookbook, "Cooking with Love" here.
Ingredients
For the apple cider vinaigrette:
1 cup fresh apple cider
¼ cup cider vinegar
3 tablespoons minced shallot (from about 2 medium)
2 teaspoons Dijon mustard
½ cup canola or other neutral oil
Kosher salt and freshly ground black pepper
For the salad:
One 1 ¼ -pound butternut squash, peeled, seeded, and cut into ½-inch dice (4 cups)
Extra virgin olive oil
Kosher salt and freshly ground black pepper
8 cups mixed greens
2 crips, tart apples (such as Granny Smith, Braeburn, Honeycrisp, or Stayman), cored and diced
2 ounces aged cheddar or Gouda cheese, shaved with a vegetable peeler or cheese plane
½ cup Sweet and Spicy Walnuts
For the walnuts:
1 large egg white
4 cups walnut halves
½ cup granulated sugar
¼ cup packed light brown sugar
½ teaspoon ground ginger
½ teaspoon kosher salt
½ teaspoon coarsely ground black pepper
Cooking Directions
To make the vinaigrette: In a small saucepan, bring the apple cider to a boil and cook until reduced to ¼ cup. Let cool completely. In a medium bowl, combine the vinegar, shallots, mustard, and reduced apple cider. Whisk well and continue whisking while adding the oil in a slow, steady steam stream until emulsified. Season to taste with salt and pepper. The vinaigrette can be transferred to a tightly closed jar and refrigerated for up to 1 week. (Shake well to reemulsify before using.)
To make the salad: in a large bowl, toss the squash with just enough oil to lightly coat and season with salt and pepper. Heat a large nonstick skillet over medium heat. Working in batches, add the squash in a single layer, cover and cook, stirring occasionally, until tender, about 5 minutes. Uncover and cook, tossing occasionally, until browned, about 2 minutes longer. Transfer to a plate. Repeat with the remaining squash. Let cool.
In a large bowl, combine the greens, apples, and squash. Gently toss with just enough vinaigrette to lightly coat. Any leftover vinaigrette can be refrigerated for up to 1 week. Divide among six serving plates and top with the cheese and walnuts.
For the walnuts:
Preheat the oven to 300°F. Line a half sheet pan with a Silpat or other nonstick silicone baking mat, or parchment paper.
In a large bowl, beat the egg white until soft peaks form. Add the walnuts and toss gently until well coated. In a medium bowl, combine the sugars, ginger, salt, and pepper. Sprinkle over the walnuts and gently fold until the nuts are evenly coated. Spread in a single layer on the pan. Bake, stirring every 10 minutes, until golden brown, about 45 minutes. Transfer the pan to a wire rack. Separate the nut with a fork and let cool completely in the pan. The cooled nuts will keep in an airtight container for up to 1 week, but are best when fresh.
Recipe courtesy Carla Hall.
This recipe was styled by chef Karen Pickus for Good Morning America.
Other Recipes That You Might Like