Carla Hall's Pot Roast
Simple Comfort Food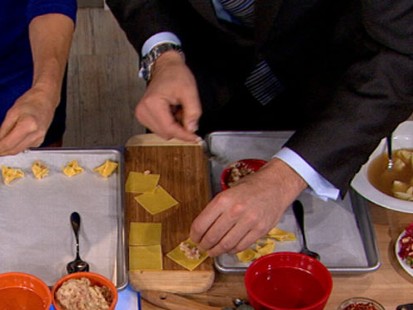 Co-host of "The Chew" prepares his favorite holiday classic Tortellini in Brodo.
From the kitchen of Carla Hall
|
Ingredients
3 pounds top round pot roast
salt
ground fresh black pepper
2 tablespoon oil
5 carrots chopped
2 onions quartered
3 garlic cloves chopped
2 tablespoon flour
1/4 cup red wine vinegar
2 cups water
1 teaspoon crushed red chili flakes
Cooking Directions
Preheat oven to 325 degrees.
Season meat liberally with salt and pepper.
In a dutch oven, over medium-high heat, add 2 tablespoons oil, sear and brown all sides of the meat. Remove beef to plate.
Then add carrots, onion, garlic, and flour to the dutch oven. Cook for 1 to 2 minutes. Place beef back into pot and add red wine vinegar, water, red chili flake. Cover with tight fitting lid, and place into oven for 3 hours.
Remove from oven. Remove meat from pot. Slice and serve with the sauce and vegetables.
Recipe courtesy The Chew.
Other Recipes That You Might Like