Carla Hall's Pumpkin Chocolate Cake
An Unexpectedly Delicious Combination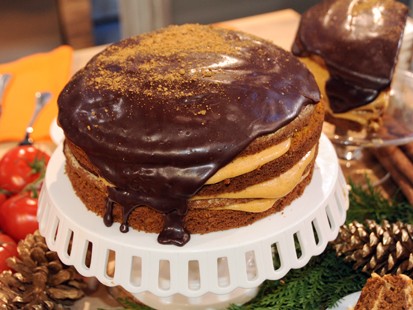 From the kitchen of Carla Hall
Try this pumpkin chocolate cake recipe from Carla Hall. Covered in a rich dark chocolate ganache, it's sure to disappear quickly.
Ingredients
For the Pumpkin Cake:
2 cups sugar
1 cup vegetable oil
4 large eggs
2 cups all-purpose flour
2 teaspoons baking soda
1 teaspoon baking powder
3 teaspoons pumpkin pie spice
1 teaspoon salt
2 cups pumpkin puree
For the Mascarpone Filling:
4 cups powdered sugar
1 teaspoon vanilla extract
1 tablespoon pumpkin spice
2 cups mascarpone
1 cup pumpkin puree (strained of excess liquid)
2 teaspoons salt
For the Dark Chocolate Ganache:
3 tablespoons corn syrup
6 ounces heavy cream
12 ounces dark chocolate (chopped into small bits)
1/2 teaspoon vanilla extract
ginger snaps (crushed for garnish)
Cooking Directions
For the Pumpkin Cake:
Grease and flour two 9-inch round layer cake pans. Combine sugar, vegetable oil, and eggs in a large mixing bowl and mix well. Whisk dry ingredients in a separate bowl. Stir the dry into the wet ingredients until just combined. Fold in the pumpkin puree.
Divide batter between the two cake pans. Bake for 35 to 40 minutes. Rotate pans half way through cooking. When a toothpick comes out clean, the cakes are done. Let cool for 5 minutes and then turn cakes out onto cooling racks.
For the Mascarpone Filling:
While the cakes are cooking make the filling. Beat the mascarpone and the pumpkin puree until blended, and then add the pumpkin spice, salt and powdered sugar. Mix at a high speed until blended, about 1 minute. Once it's fully combined add the vanilla and beat for another 30 seconds.
Once the cakes have cooled completely, cut through each cake horizontally with a serrated knife (there will now be four round of cake to work with). Spread the filling evenly between the layers (3). Once assembled, transfer cake to a cake stand with parchment paper lined around the edges (to keep the cake stand clean).
For the Dark Chocolate Ganache: Make the ganache in a small saucepan. Combine the corn syrup and heavy cream and bring to a simmer. Add the chocolate. Stir until smooth. Remove from the heat and add the vanilla extract.
Pour over the cake.
Garnish with crushed ginger snaps.Once the ganache is set, remove the parchment.
Recipe courtesy "The Chew: Food. Life. Fun."
This recipe was styled by chef Karen Pickus for Good Morning America.
Recipe Summary
Main Ingredients: sugar, vegetable oil, eggs, pumpkin spice, chocolate
Course: Dessert