Carla Hall's Pumpkin Spice Linzer Cookies
Try This Updated Fall Classic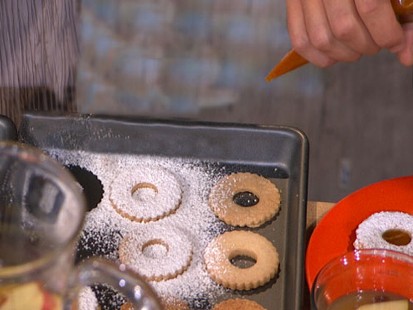 "The Chew" co-host prepares tasty treats just in time for fall cookie baking.
From the kitchen of Carla Hall
These cookies are the perfect afternoon snack for fall. Dip them in your favorite cup of spiced apple cider!
Ingredients
For the cookies:
3/4 pound unsalted butter, room temperature
1 cup granulated sugar
1 teaspoon vanilla extract
3 1/2 cups all purpose flour
1/4 teaspoon salt
1 teaspoon pumpkin spice ( or substitute 1/2 teaspoon cinnamon, 1/4 teaspoon ginger, 1/8 teaspoon allspice, 1/8 teaspoon nutmeg)
3/4 cup pumpkin butter (see recipe below)
confectioners' sugar, for dusting
For the filling:
1 (29-oz) can pumpkin puree (not pie filling)
3/4 cup apple cider
1 teaspoon grated ginger
2 teaspoons pumpkin pie spice
1 cup granulated sugar
Cooking Directions
For the cookie:
Preheat oven to 350 degrees.
In a medium bowl, sift together the flour and salt. Set aside. In the bowl of an electric mixer fitted with the paddle attachment, mix together the butter and sugar until just combined. Add the vanilla. Gradually add in flour mixture on low just until the dough starts to come together. Dump onto a piece of plastic wrap and flatten to a disk. Wrap and chill for 30 minutes.
Roll the dough 1/4 inch thick and cut into 2" rounds with a plain or fluted cutter. With 1/2 the rounds, cut a hole from the middle of each round in a desired shape. Place the cookies on a parchment lined baking sheet and chill for 15 minutes. Bake the cookies for 20 – 25 minutes, until the edges begin to brown or the cookies are crisp. Allow to cool at room temperature.
Spread pumpkin butter on the flat side of each whole cookie. Dust the top of the cut-out cookies with powdered sugar. Place the powdered sugared tops on the pumpkin buttered bottoms.
For the filling:
Combine all ingredients in a small saucepan. Bring mixture to a boil. Reduce heat and simmer for 30 minutes or until thickened. Stir frequently.
This recipe was styled by chef Karen Pickus for Good Morning America.
Recipe courtesy of Carla Hall.
Recipe Summary
Main Ingredients: pumpkin, ginger, apple cider, vanilla extract, flour
Course: Dessert