Carla Hall's S'more Cream Puffs
A Combination of Your Two Favorite Desserts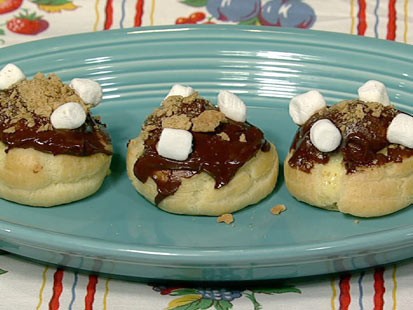 From the kitchen of Carla Hall
Ingredients
1 cup unsalted butter
2 cups water
1 pinch salt
2 cups unbleached flour
7 eggs
For the cream filling:
2 cups whole milk
5 large egg yolks
1 cup sugar
1/4 cup cornstarch
1 teaspoon vanilla extract
To dip in chocolate:
1/2 cup unsalted butter, room temperature, cut into tablespoon-sized pieces
8 oz semisweet chocolate chips
For the toppings:
Crushed graham crackers
Mini marshmallows
Cooking Directions
Preheat oven to 400F, and line sheet pans with parchment. Lightly coat with cooking spray.
In a medium pot, bring water, butter, and salt and a boil. Add all flour at once, turning heat down to medium-low and begin to beat until mixture pulls away from sides and forms a ball.
Transfer to the bowl of a stand mixer and beat at medium speed until cooled slightly. Turn speed up to high and add the eggs, one at a time, until full incorporated. Do not add the next egg until current egg is full incorporated.
When dough comes together, around 10 minutes, transfer to piping bag. Pipe 3" rounds onto the parchment lined sheet pan, leaving space between each.
Bake for about 40 minutes, until outside is golden brown and the inside of the puffs sound hollow. Cool completely before filling.
In a medium saucepan, whisk together milk, egg yolks, sugar and cornstarch. Place over a low heat whisking gently just until the mixture bubbles, about 15 minutes. Immediately remove from the heat. Strain through a fine mesh sieve into a large bowl. Stir in vanilla extract. Press plastic wrap directly on the top of the cream and place in fridge to cool completely, approximately 2 hours.
To fill the puffs, transfer the pastry cream to a piping bag, with a medium tip. Use the tip to break a small hole in the puff, and fill.
To dip in chocolate, heat chocolate in a double boiler. Add the room temperature butter, a piece at a time, melting into the butter. Dip puffs into mixture.
Top with crushed graham crackers and mini marshmallows. Allow to dry on a parchment lined sheet pan.
Recipe courtesy The Chew.
Recipe Summary
Main Ingredients: chocolate chips, graham, butter, water, flour, salt
Course: Dessert