Carla Hall's Tomato Sweet Potato Bisque
Warm Up With This Sweet, Satisfying Soup From 'The Chew' Co-Star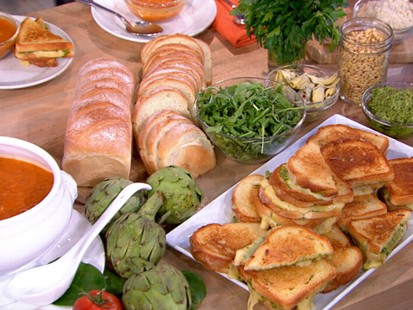 Star of "The Chew" combines her soup with her fancy grilled cheese.
From the kitchen of Carla Hall
Last Thanksgiving my nephew had dental surgery just before the feast. I felt so bad that he couldn't chew, I told him I'd make him tomato soup. "Um, no!" was his teenage response. I know he's a picky eater, but I made it anyway. He tore this soup up! There wasn't a drop left in his bowl and he kept coming back for more. Just goes to show you should feed picky eaters what they think they don't like. You never know. I didn't like tomatoes when I was growing up because I thought they were too acidic. That's why I pair them with sweet potatoes here; their starchy earthiness tempers the tomato's acid. The result is creamy, naturally sweet, and deeply satisfying.
Ingredients
2 tablespoons extra virgin olive oil
2 medium carrots, coarsely chopped
1 celery rib, coarsely chopped
1 jumbo sweet onion, coarsely chopped
Kosher salt
1 jalapeno chile, stemmed, seeded, and chopped
4 garlic cloves, chopped
2 sprigs fresh thyme
4 fresh basil leaves
One 14.5-ouncecan diced fire-roasted tomatoes
1 Quart Vegetable Stock (page 55) or store-bought unsalted vegetable broth, plus more if desired
1 medium sweet potato, peeled and chopped
¼ cup heavy cream
Freshly ground black pepper
Cooking Directions
Heat a large saucepan over medium-high heat. Add the oil and heat until just hot. Add the carrot, celery, onion, and ½ teaspoon salt. Cook, stirring occasionally, until the onions just turn translucent, about 5 minutes.
Add the jalapeno, garlic, thyme, and basil. Cook, stirring occasionally, until the vegetables are nice and brown, about 7 minutes.
Stir in the tomatoes with their juices, then stir in the stock and sweet potato. Bring to a boil, then reduce the heat to maintain a steady simmer. Simmer until the sweet potato is very, very tender, about 1 hour. The sweet potatoes should be soft enough to mash easily with the back of a spoon
Remove and discard the thyme sprigs. Using an immersion blender or stand blender (working in batches if necessary), puree until silky smooth. Reheat the soup over low heat. Stir in the cream. For a thinner soup, stir in more stock. Season to taste with salt and pepper and serve hot.
Catering Like Carla:

Strain through a fine-mesh sieve for a more refined soup.

Use silken tofu, blended until smooth, in place of the cream to make this a diary-free soup.
Original recipe courtesy "Cooking with Love: Comfort Food that Hugs You," by Carla Hall.
This recipe was styled by chef Karen Pickus for Good Morning America.
Recipe Summary
Main Ingredients: extra virgin olive oil, carrots, sweet onion, roasted tomatoes, vegetable stock, sweet potato, heavy cream
Course: Soup