Carla Hall's Yellow Tomato Soup with Grilled Cheese Croutons
Try This Creamy Soup With Crunchy Croutons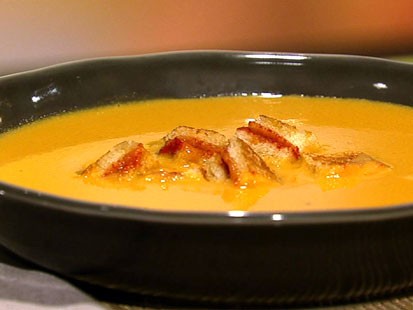 From the kitchen of Carla Hall
Ingredients
Fresh Yellow Tomato Soup:
2 1/2 pounds yellow tomatoes, ripe (cored and chopped)
1 1/2 cup yellow onion, chopped
3 tablespoons extra virgin olive oil
2 garlic cloves
5 cup chicken stock
1/2 cup heavy cream
1 tablespoon sugar
2 teaspoons thyme, fresh
1 yellow pepper, chopped
1 rib celery, chopped
1/2 cup dry white wine
1/2 cup sherry
2-4 basil leaves
Roasted Plum Tomato Jam:
2 pounds plum tomatoes, cut in half
3 garlic cloves, sliced thinly
2 tablespoons extra virgin olive oil
2 teaspoons sugar
2 teaspoons balsamic vinegar
1 sprig fresh thyme
1 sprig rosemary
salt and freshly ground black pepper to taste
Grilled Cheddar Cheese Croutons:
10 slices aged cheddar
10 slices country white bread
3 tablespoons butter
Cooking Directions
For the Soup:
In a medium pot, add the olive oil and sweat the onions, celery and peppers. When the onions are soft and translucent, add the tomatoes, garlic and thyme, then simmer until the tomatoes are tender, about 20 minutes.
Add the wine and sherry and simmer for five minutes. Add stock and simmer for about 20-30 minutes
Working in small batches, puree soup in a blender with basil until silky smooth.
Add cream and stir until heated through. Adjust seasoning with salt and pepper.
Roasted Plum Tomato Jam:
Preheat oven to 300 degrees F.
In a large bowl, toss the tomato halves with all the ingredients. Put tomatoes on sheet pan, cut side up.
Roast tomatoes for 2 hours, or until they are shriveled and slightly brown.
Let cool until cool enough to handle. Remove skins.
Place tomatoes in a stainless steel, or ceramic pot, and mash. Then cook on low heat until the mixture reduces to a jam-like consistency. This step may be done up to one week ahead.
Grilled Cheese Croutons
Place 2 slices of cheese in between 2 slices of white bread slathered with tomato jam. Butter the backs of each sandwich, on both sides. Heat a nonstick skillet over medium heat and add a dab of butter. Toast the grilled cheese sandwiches on both sides until golden brown and the cheese is melted, approximately 1-2 minutes per side.
Remove sandwiches from pans and let cool for 1-2 minutes. Slice into 1 inch croutons.
Ladle soup into bowls and top with a couple of grilled cheese croutons.
Recipe couresty "The Chew."
Recipe Summary
Main Ingredients: cheddar cheese, yellow tomatoes
Course: Soup