Carla's Grilled Pineapple Upside Down Sandwich
A Great Sweet Sandwich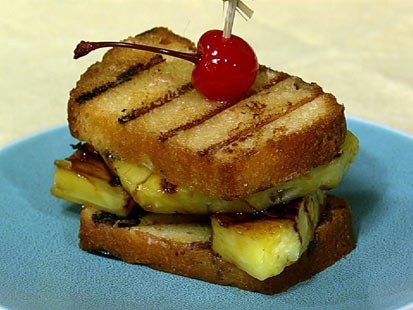 From the kitchen of Carla Hall
Ingredients
1/2 cup butter
1/2 cup brown sugar
1/2 cup unsweetened pineapple juice
1 cup mascarpone cheese
1 fresh pineapple, peeled, cored, and sliced
10 slices pound cake or challah bread
cherries (to skewer)
Cooking Directions
Combine butter, brown sugar and pineapple juice in a pot. Bring to a boil, then reduce to a simmer for 2 minutes. Reserve half for brushing on fresh pineapple. Mix the other half into mascarpone cheese.
Heat grill to medium heat. Place pineapple rings on grill. Grill both sides for 1 minute each or until warmed through, then brush with brown sugar mixture. Grill quickly on each side. Clean grill, then quickly grill cake. Brush each piece with sweetened mascarpone and place grilled pineapple in the middle.
Top with a cherry skewer to serve.
Recipe courtesy The Chew.
Recipe Summary
Main Ingredients: butter, brown sugar, pineapple
Course: Dessert