Carmine Arroyo's Ginger Cookie
Try This Spicy Classic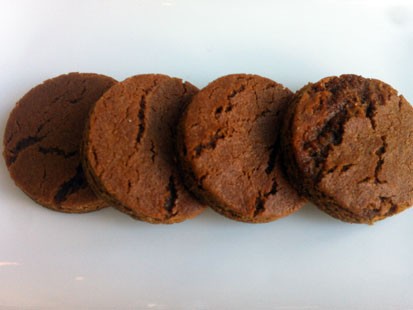 From the kitchen of Carmine Arroyo
|
The addition of molasses gives these cookies a depth of flavor. Make sure you chill them for at least an hour before baking.
Recipe courtesy Carmine Arroyo of ellabess restaurant in New York City's Nolitan Hotel.
Ingredients
4 oz. butter
1 cup sugar
1/4 cup molasses
1 egg
2 cup all-purpose flour
3 teaspoon baking soda
1/2 tsp. salt
1 tsp. cinnamon
3 tsp ginger
1/4 tsp. clove
1/4 tsp nutmeg
Cooking Directions
Mix all dry ingredients in a medium bowl. In electric mixer, cream butter and sugar until fluffy. Add molasses and beat until combined. Add egg and incorporate. Add dry ingredients to molasses mixture, and stir until evenly incorporated. Place dough in refrigerator for 1 hr. Preheat oven to 350 degrees. Lightly spray cookie sheet and cover with parchment paper. Lightly spray paper. Scoop dough into little 2 inch balls and place on cookie sheet. Dough will spread, so be sure to leave at least 2 inches between each cookie. Bake for 8-12 minutes.
Makes 40 cookies.
Recipe courtesy Carmine Arroyo.
Other Recipes That You Might Like