Carol Alt's Thai-Style Mango Salad
A Sweet Salad With a Spicy Kick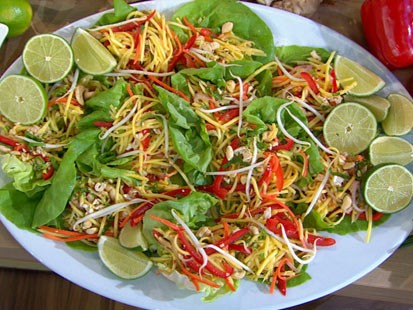 From the kitchen of Carol Alt
|
This recipe is based on a salad that my Raw Essentials (www. RawEssentials.com) skin care team fell in love with in a restaurant outside Toronto. If you fall in love with it, too, to make your life easier you might want to invest in a clever little gadget called the Pro-Slice Thai Peeler. It's shaped like a regular peeler but has a zig-zag blade that shreds your mango (or papaya or any other firm fruit) quickly and in a most attractive fashion, just like they do at your neighborhood Thai restaurant. You can find the Thai Peeler in Asian markets or online (see Sources, page 239).
Vegetarians can omit the fish sauce.
Ingredients
For the dressing:
1 teaspoon grated lime zest
2 tablespoons fresh lime juice
2 tablespoons fish sauce
2 teaspoons cold- pressed extra-virgin olive oil
1 garlic clove, minced
½ teaspoon grated fresh ginger
2 or 3 kaffir lime leaves (see below), ground into a powder using
a mortar and pestle
(optional)
¼ teaspoon red chile flakes
For the salad:
2 green mangos
1 medium red bell pepper, cored, seeded, and cut into thin strips
1 medium carrot, coarsely grated
1 shallot, thinly sliced
2 scallions, green and white parts, thinly sliced
¹/³ cup chopped raw cashews
½ cup chopped fresh cilantro
Large lettuce leaves, for serving
Mung bean sprouts, for serving (optional)
Cooking Directions
To make the dressing, in a medium bowl, whisk together the lime zest and juice and the fish sauce. Gradually whisk in the oil until emulsified. Whisk in the garlic, ginger, ground lime leaves, if using, and red chile flakes. Set aside.
To make the salad, peel the mangos, cut the flesh away from the pits, and then cut the flesh into thin julienne strips or coarsely grate it. Place the mango in a large bowl and add the bell pepper, carrot, shallot, scallions, and cashews. Toss until combined. Add the dressing and toss to coat. Add the cilantro and toss again. Serve on a bed of lettuce and top with sprouts, if using.
Kaffir lime leaves:
The kaffir lime is a small, gnarly-looking lime grown in Southeast Asia. The leaves of the fruit are highly aromatic, almost intoxicat- ingly so. If you've ever wondered what makes Thai food so good, it's the lime leaves—along with fish sauce—that give it its distinc- tive flavor. You can find kaffir lime leaves in Asian groceries. If
fresh are unavailable, frozen are a good substitute, but avoid dried lime leaves, as much of the flavor is lost when they are dried.
Recipe courtesy Easy Sexy Raw.
This recipe was styled by chef Karen Pickus for Good Morning America.
Other Recipes That You Might Like