Carol Alt's Tomato and Corn Soup with Basil
Enjoy it Cold or Hot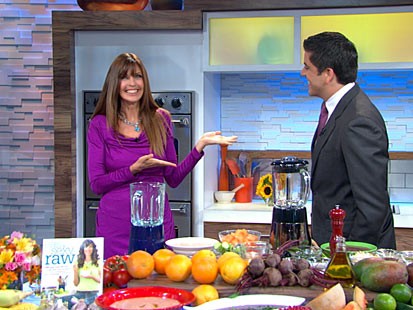 From the kitchen of Carol Alt
|
Earlier I told you that I often don't care for tomatoes. I should have added—except for this soup. Nothing says summer more to me than this trio of tomatoes, corn, and basil. And if you stock your freezer with tomatoes and corn to extend the season, you can make this soup any time of year. Serve immediately, or chill for a refreshingly cold soup or heat in the dehydrator for a warming winter soup.
Ingredients
1 cup fresh or thawed frozen corn kernels (see page 113)
2 large tomatoes, seeded and chopped
1 cup water
2 tablespoons cold- pressed extra-virgin olive oil, plus more for drizzling
1 garlic clove
3 tablespoons fresh lime juice
¾ teaspoon sea salt, plus more for sprinkling
Pinch of freshly ground black pepper, plus more for sprinkling
1 teaspoon grated lime zest
¼ cup finely chopped fresh basil, plus basil leaves for garnish
Cooking Directions
In a high-speed blender, combine all the ingredients except the lime zest and basil and blend until smooth. Add the lime zest and basil and blend briefly to incorporate.
Pour the soup into bowls and drizzle each serving with oil. Sprinkle with a few grains of salt and a grind of pepper, and garnish with a basil leaf.
A nice bowl of warm soup:
Raw soup doesn't have to be cold—you can keep to raw and still enjoy a warming soup on a cold fall or winter evening. Some tips:
1. Warm the bowls in the dehydrator for a few minutes before serving your soup.
2. Warm your soup in the dehydrator at 115ºF for 30 minutes or so before serving.
3. Heat your soup on the stovetop until it is warm to the touch or until an instant-read thermometer reaches about 110ºF.
Recipe courtesy Easy Sexy Raw.
This recipe was styled by chef Karen Pickus for Good Morning America.
Other Recipes That You Might Like