Caroline Manzo's Spaghetti and Meatballs
From 'Let Me Tell You Something'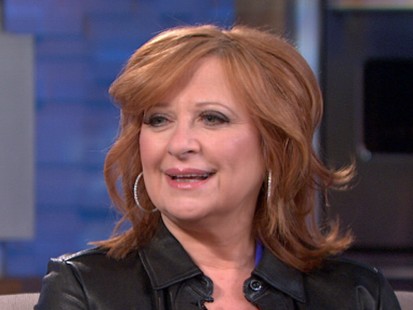 Caroline Manzo previews her new book, "Let Me Tell You Something."
From the kitchen of Caroline Manzo
|
Caroline Manzo, the straight-shooting voice of "The Real Housewives of New Jersey," is out with a new book "Let Me Tell You Something." Manzo shares her family's favorite spaghetti and meatball recipe here.
"Al says he married me for my meatballs. These are so good, and they're really easy to make."
Ingredients
For the meatballs:
9 slices white bread, divided
1½ pounds meat loaf mixture (a combination of ground beef, pork, and veal; ask your butcher)
1 egg
A large handful Locatelli Pecorino-Romano grated cheese
6–8 large cloves of garlic, ground fine in a food processor
1 cup milk
Salt and pepper, to taste
Vegetable oil, for shallow frying
For the spaghetti:
1 pound spaghettini or angel hair pasta, cooked and drained
½ cup olive oil
4–5 large cloves garlic, smashed, not chopped
¼ cup minced parsley
3 tablespoon chicken stock
½ cup grated Locatelli Pecorino-Romano cheese (or fresh Parmesan)
Hot pepper flakes to taste
Cooking Directions
For the meatballs:
Pulse 6 slices of the white bread in a food processor to make homemade bread crumbs. In a
large mixing bowl, combine the homemade bread crumbs with the meat, egg, cheese, garlic, milk, and salt and pepper, to taste in a large bowl.
Cut the crusts off remaining 3 slices of bread. Break the pieces up with your hands and combine with the meat mixture. The mixture should be very loose.
Using two soup spoons, form the meat into balls and fry the balls in the oil until they are brown, about five minutes.
For the spaghetti:
Cook the pasta according to the directions on the package. Drain. Heat the oil in a skillet, over medium heat. Add the garlic and sauté gently until it starts to brown. Remove the skillet from the heat immediately.
Pour the olive oil and garlic over the pasta. Add the parsley and chicken stock. Toss and serve immediately.
Top with the cheese and pepper flakes to taste.
This recipe was styled by chef Karen Pickus for Good Morning America.
Excerpt courtesy of It Books, a division of HarperCollins Publishers.
Other Recipes That You Might Like