Marc Forgione's Carrot-Glazed Carrot
A Twist on the Traditional Side Dish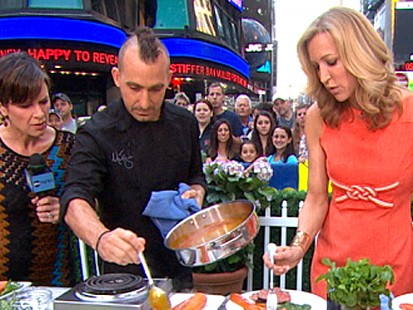 Chef Marc Forgione, owner of American Cut, chats about his emotional win on "The Next Iron Chef."
From the kitchen of Marc Forgione
Food Network's "Next Iron Chef" winner Marc Forgione serves up this simple but delicious glazed-carrot side dish at his steakhouse, American Cut.
Ingredients
For the glaze:
1 cups orange juice
2 cups carrot juice
1/4 cup honey
1/4 cup dark brown sugar
1 mint sprig
3 teaspoons cornstarch
For Carrots:
2 extra-large carrots
2 cups of chicken stock
1/4 bunch mint
1/4 cup of sugar
1 stick butter, plus additional 1 tablespoon
Salt
Maldon Salt
Cooking Directions
For the glaze:
In a saucepan over medium-high heat, reduce the orange and carrot juice by half. While liquid is reducing, add mint. When liquid has reduced, add honey and brown sugar and cook until the sugar is dissolved.
In a small bowl, mix together the cornstarch with 3 teaspoons of water. Remove the mint from the liquid and add the cornstarch-water mixture.
For the carrot:
Combine all of the ingredients in a deep sauté pan and bring up to a simmer. If liquid does not fully cover the carrots, add water.
Cover and cook until carrots are tender when poked with a fork, or around 15-20 minutes.
For each carrot, in a sauté pan over medium-high heat melt ½ tablespoon butter and cook until butter browns. Add 1 whole carrot and approximately 3/4 cup of the glaze. Toss the carrot in the glaze until coated.
Place the carrots on a plate, pour the glaze over it and finish with a pinch of Maldon salt.
Recipe courtesy Marc Forgione.
This recipe was styled by chef Karen Pickus for Good Morning America.
Recipe Summary
Main Ingredients: carrots, orange juice, carrot juice, chicken stock, butter
Course: Side Dish, Vegetable