The Whole30 Diet: Cashew-crusted chicken and wilted kale salad
Try this healthy option from 'The Whole30 Fast & Easy Cookbook'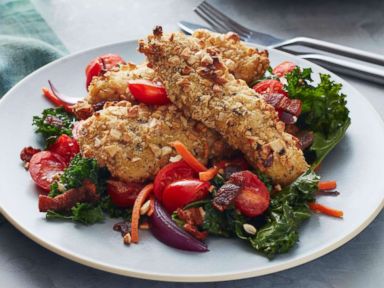 From the kitchen of The Whole30 Fast & Easy Cookbook
|
The Whole30 diet requires dieters to eat whole foods, meats, and vegetables, and bans sugar, alcohol, grains, legumes, soy and dairy for 30 days.
This recipe for cashew-crusted chicken and wilted kale salad from the "The Whole30 Fast & Easy Cookbook" by Whole30 co-creator and cookbook author Melissa Hartwig adheres to the dieting guidelines.
While the chicken bakes to crisp, crusted deliciousness in the oven, you quickly wilt the kale and onion in bacon drippings in a skillet -- then toss it with raw shredded carrot and grape tomatoes. The contrast of temperatures and textures is a nice change of pace from a traditional salad.
Ingredients
For the Chicken:
Extra virgin olive oil
1 large egg
1/2 cup almond flour
1/3 cup finely chopped raw cashews
1/2 teaspoon salt
1/2 teaspoon black pepper
6 boneless, skinless chicken breast tenderloins (about 12 ounces total)
For the salad:
3 slices Whole30-compliant bacon, chopped
4 cups torn fresh kale
1 small red onion, slivered
1/2 cup packaged shredded carrot
1/2 cup grape tomatoes, halved
1/4 cup raw cashews, toasted and chopped
Cooking Directions
Preheat the oven to 425°F. Lightly brush olive oil on a medium baking sheet.
Whisk together the egg and 1 tablespoon olive oil in a shallow dish. In another shallow dish, stir together the flour, cashews, salt, and pepper. Dip each tenderloin into the egg, turning to coat. Allow the excess to drip off, then dip into the cashew mixture, turning to coat. Place on the prepared pan.
Bake the chicken, turning once halfway through cooking, until the internal temperature is 165°F and the chicken is no longer pink, 15 to 18 minutes.
Meanwhile, in a large skillet, cook the bacon, stirring, until browned and crisp. Using a slotted spoon, transfer the bacon to a plate lined with paper towels, reserving the bacon fat in the skillet. Add the kale and onion to the skillet with the bacon fat. Cook, tossing frequently with tongs, until the kale is wilted and tender, 2 to 3 minutes.
Remove the skillet from the heat. Stir in the cooked bacon, carrot, and tomatoes. Serve the chicken on top of the kale salad. Sprinkle with the cashews.
Tip: To toast cashews, heat in a dry skillet over medium heat, stirring, until fragrant and lightly browned, about 2 minutes.
Reprinted with permission from "The Whole30 Fast & Easy." Copyright © 2017 by Melissa Hartwig. Used by permission of Houghton Mifflin Harcourt. All rights reserved.
Other Recipes That You Might Like