Cat Cora's Chicken & Veggie Skewers with Ranch-Chimichurri Dipping Sauce
A Nod to Summer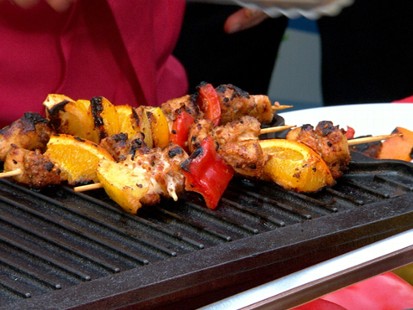 Chef also shares clever ways to use her recipes for students' school lunch.
From the kitchen of Cat Cora
These citrus-flavored skewers are divine when dipped in the cool ranch sauce. For more information on Lunch Break for Schools, go to Hidden Valley's website.
Ingredients
12 8-inch wooden skewers, soaked
3 whole chicken breasts, cut into bite-size (1/2 inch) strips or cubes
2 whole lemons, cut into wedges for the skewers
1 whole orange, cut into wedges for the skewers
1 red bell pepper, cut into wedges for the skewers
1 yellow bell pepper, cut into wedges for the skewers
For the Basque Blend:
3 tablespoons dried finely ground orange peel
1 1/2 tablespoons ground chili powder
1 tablespoon sea salt
1/2 tablespoon freshly cracked black pepper
For the ranch chimichurri sauce:
6 cloves garlic, coarsely chopped
3 bay leaves
1 fresh ancho chile, with seeds, coarsely chopped
1 fresh Serrano or jalapeño chile, with seeds, coarsely chopped
1/2 Tablespoon salt
3/4 cup finely minced fresh flat-leaf parsley
1/4 cup finely minced fresh oregano
1/4 cup of minced basil
1/4 cup distilled white vinegar
1/3 cup extra-virgin olive oil
1/2 packet (1/2 ounce) Ranch Dips Mix
3/4 cup nonfat sour cream or nonfat plain Greek yogurt
Cooking Directions
In a small bowl or cup, stir together the orange peel, chili powder, sea salt and black pepper. Rub this mixture evenly over the chicken pieces. Let the chicken stand at room temperature for 30 minutes.
Prepare a hot fire in a charcoal grill, or preheat a gas grill to high.
Thread skewers with 3 or 4 pieces of marinated chicken, alternating with small wedges of lemons, oranges, red and yellow bell peppers.
Place skewers on an area of the grill with no direct flame. Grill about 8 to 10 minutes, turning the pieces occasionally, until meat is browned on all sides and the juices run clear.
Arrange the chicken and veggie skewers on a platter and spoon the sauce on top or use as a dipping sauce.
For the chimichurri sauce:
In the meantime while your skewers cook, prepare the chimichurri sauce by combining the garlic, bay leaves, ancho, jalapeno, salt, parsley, oregano, basil, vinegar and olive oil with a small amount of water in a blender until a smooth sauce has formed.
Transfer to a mixing bowl and stir in the ranch dips mix and sour cream/Greek yogurt until well combined.
Serve immediately or refrigerate until ready to serve.
This recipe was styled by chef Karen Pickus for Good Morning America.
Recipe courtesy Cat Cora.
Recipe Summary
Main Ingredients: chicken breast, orange, garlic, sour cream
Course: Party Platter, Dinner