Cat Cora's Truffled Orzo with Asiago Cheese
A Side Dish You Won't Be Able to Resist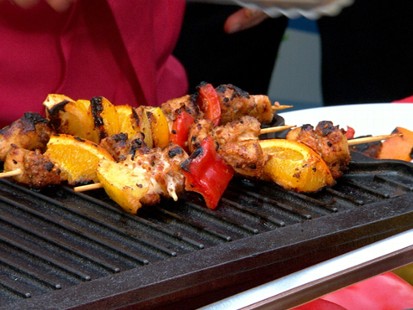 Chef also shares clever ways to use her recipes for students' school lunch.
From the kitchen of Cat Cora
Macaroni and cheese gets a fancy touch with truffled orzo and asiago cheese. For more information on Lunch Break for Schools, go to Hidden Valley's website.
Ingredients
1 tablespoon kosher salt
1 1/3 cups orzo
1 tablespoon butter
1/2 cup plus 3 tablespoons grated Asiago cheese
1 teaspoon truffle oil
1 teaspoon salt
1/2 teaspoon freshly ground black pepper
Cooking Directions
In a 4- to 6-quart stockpot, bring 4 quarts of water to a boil.
Add the salt and the orzo, and cook for 5 to 7 minutes or until the pasta is al dente (or just slightly chewy).
In a 10-inch sauté pan, melt the butter.
Add the cooked pasta and 3 tablespoons of the Asiago cheese. Drizzle on the truffle oil, sprinkle on the salt, and give it a few cranks of freshly ground pepper. Toss well.
Spoon the orzo into a serving bowl, top with the remaining cheese, and serve immediately.
This recipe was styled by chef Karen Pickus for Good Morning America.
Recipe courtesy Cat Cora.
Recipe Summary
Main Ingredients: asiago, truffle, salt, pepper
Course: Side Dish
More Info: Kid Friendly