Gwyneth Paltrow's Cauliflower Mac 'N' Cheese
Try This Vegetarian Dish!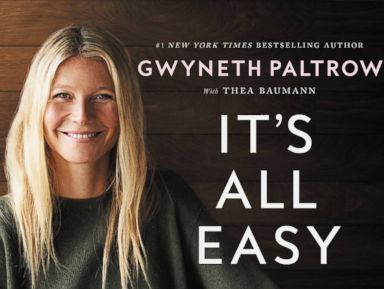 From the kitchen of Gwyneth Paltrow
Gwyneth Paltrow's latest cookbook features more than 125 recipes that are designed to be made fast, and with little or no sugar, fat or gluten. The Oscar winner appeared on "Good Morning America" today to share recipes from "It's All Easy: Delicious Weekday Recipes for the Super-Busy Home Cook." Try this recipe in your kitchen today!
Ingredients
Cooking spray
Salt
5 tablespoons unsalted butter
¼ cup plus 1 tablespoon all-purpose flour
2 teaspoons minced fresh thyme leaves
4 cups whole milk
1 garlic clove, very finely grated or minced
A pinch of cayenne pepper
A pinch of ground nutmeg
½ pound Gruyère cheese, grated
½ pound white Cheddar cheese, grated
Freshly ground black pepper
1 pound elbow macaroni
1 small head of cauliflower, broken into small florets (cut any large florets into roughly ¾-inch pieces)
1 cup grated Parmesan cheese
½ cup panko bread crumbs
2 tablespoons olive oil
Cooking Directions
Okay, so mac 'n' cheese is not exactly a healthy dinner, but we can't be virtuous all the time! Plus, I managed to sneak in a whole head of cauliflower without any objections, so I'm not feeling too guilty. If it's easier, make this dish up to a day in advance and store it in the fridge until you need it. Just add about 10 minutes to the cooking time.
Preheat the oven to 375ºF. Grease a 9 × 11-inch baking dish with cooking spray. Bring a large pot of salted water to a boil for the pasta.
Meanwhile, in a large saucepan or Dutch oven, melt the butter over medium heat. Add the flour and thyme and cook, stirring with a wooden spoon, for 2 minutes. Add the milk, ½ cup at a time, and cook until the mixture is thick enough to coat the wooden spoon, about 10 minutes. Add the garlic, cayenne, nutmeg, and 1½ packed cups each of the Gruyère and the white Cheddar; season with salt and pepper to taste.
Once the sauce is ready, add the pasta to the boiling water and cook for 5 minutes. Add the cauliflower and cook for 1 minute more. Drain the pasta, toss it with the cheese sauce, and pour the mixture into the prepared baking dish.
In a medium bowl, combine the remaining Gruyère and Cheddar, the Parmesan, panko, and olive oil and season with a pinch of salt. Spread the mixture evenly over the mac 'n' cheese and bake for 30 minutes, or until the topping is brown and crispy and the cheese sauce is bubbling.
Recipe styled by Karen Pickus, chef/food stylist, "Good Morning America."
Excerpted from the book IT'S ALL EASY by Gwyneth Paltrow. Copyright 2016 by Gwyneth Paltrow. Reprinted with permission of Grand Central Life & Style. All rights reserved.
Recipe Summary
Main Ingredients: cauliflower, cheese, bread crumbs, macaroni
Course: Dinner, Lunch, Main Course
More Info: Kid Friendly, Vegetarian