Eden Grinshpan's Cauliflower Meze Recipe
The co-founder and executive chef of The Dez roasts and serves the florets with capers and dill.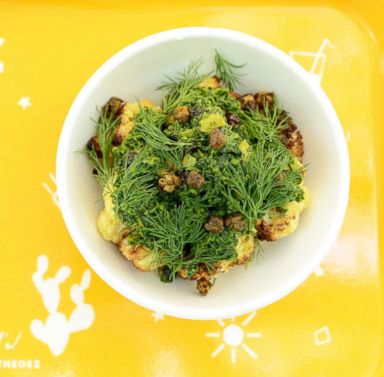 From the kitchen of Eden Grinshpan
The Food Network TV host shared a dish on her menu at Dez in Manhattan. This riff on a Middle Eastern classic is a great way to use one of falls best vegetables. Make this meze as a side with the recipe below.
Ingredients
1 head cauliflower

1/4 cup extra virgin olive oil

1 tsp kosher salt

Chimichurri:
1 cup Cilantro

1 cup Parsley

1 garlic clove

2 tablespoons chopped preserved lemon (rinds only)

1 1/2 cups extra virgin olive oil

1/3 cup white wine vinegar

1/2 cup re-hydrated currants in water (Soak the currants in hot water for 30 minutes and then strain them)

1/2 teaspoon kosher salt

Capers

Fresh Dill

Cooking Directions
Pre-heat the oven to 450 degrees Fahrenheit.

Cut the cauliflower into florets and toss with the olive oil and kosher salt. Place into the oven for 15-17 minutes until golden and toasted. Remove and prepare the sauce.

In a blender place the cilantro, parsley, garlic and preserved lemon. Blend and slowly add in the oil. When all mixed together, remove from the blender and stir in the currants and the vinegar.

For the garnish rinse and dry the capers. Heat up oil in a pot and fry the capers until lightly golden and flowered.

Pour the sauce over the cauliflower to taste. Top with the fried capers and garnish with the dill.
Recipe Summary
Main Ingredients: cauliflower, capers, dill
Course: Side Dish, Snack