Haylie Duff's Cauliflower and Pea Gratin
Star Chef Cooks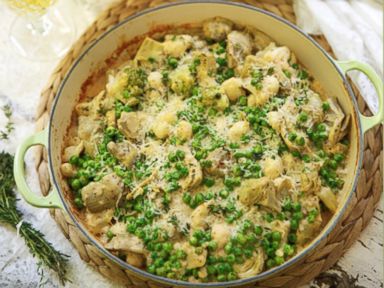 From the kitchen of Haylie Duff
Haylie Duff may be most known for her skills as an actress, but the silver screen star has also been making her name for herself in the food world. Since starting her food blog, "Real Girl's Kitchen," during some downtime on set about three years ago, she's scored a cookbook and a show on Cooking Channel. Tune in and try her recipe for Cauliflower and Pea Gratin below.
Ingredients
Cauliflower
Sweet Peas
2 cups of nonfat milk
1/4 stick of butter
1 and 1/4 cup of grated Parmesan cheese (1/4 will be added across the top)
2 tablespoons of flour
1 teaspoon of nutmeg
1/2 teaspoon of chili powder
A pinch of crushed red pepper (adjust to taste, or skip all together)
1/2 teaspoon of kosher salt
1/2 teaspoon of black pepper
1 tablespoon of fresh thyme (1/2 in to the pan and 1/2 as a garnish)
Cooking Directions
Preheat oven to 350. Drop cauliflower in to a boiling pot of water for 1-2minutes. Just long enough to soften them but don't cook all the way. Remove and let cool.
In an oven safe skillet, deep enough to hold all the cauliflower and peas, bring milk and butter to a slow boil. Add seasonings and 2 tbsp of flour. Stir till no clumps of flour remain. Add 1 cup of parmesan cheese and stir. Fold the cauliflower and peas in to the mixture. Mix well.
Bake for 15-20 mins or until pan is bubbly. Sprinkle across the remaining 1/4 cup of parmesan and place back in the oven. Once melted you are ready to enjoy! Garnish with a sprinkle of thyme.
Recipe Summary
Main Ingredients: cauliflower, sweet peas, nonfat milk, parmesan cheese
Course: Side Dish