Cereal and potato chip bars
Try this sweet-and-salty dessert with potato chips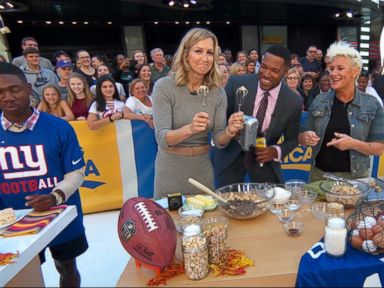 Chef Anne Burrell and Food Network Magazine Editor-in-Chief Maile Carpenter share their recipes for snacks that satisfy all your cravings, including chocolate chunk oatmeal cookies and cereal and potato chip bars.
From the kitchen of Food Network Magazine
Put a twist on sweet desserts by adding a salty snack like potato chips. Editor-in-chief of Food Network magazine Maile Carpenter shared her recipe with "GMA" for cereal and potato chip dessert bars that are "all that and a bag of chips." Click here to try Anne Burrell's chocolate chunk oatmeal cookies.
Active: 15 min
Total: 1 hr 15 min
Makes: 9 to 12
Ingredients
Cooking spray
6 tablespoons coconut oil, plus more for your hands
1 10-ounce bag marshmallows
1 teaspoon pure vanilla extract
1 7-ounce bag rippled potato chips, lightly crushed (about 5 cups)
3 cups sweetened cereal (We used Honey Nut Cheerios and Kix cereal. You can also try fruity ones, like Froot Loops or Trix.)
3/4 cup freeze-dried strawberries, finely crushed
Cooking Directions
Line a 9-inch square baking dish with foil, leaving a 2-inch overhang on two sides; coat with cooking spray. Melt the coconut oil in a large wide pot over medium heat. Add the marshmallows and cook, stirring occasionally, until melted, about 4 minutes. Stir in the vanilla.
Add the potato chips, cereal and freeze-dried strawberries to the pot and stir to coat. Spread the mixture in the prepared pan and press firmly and evenly with oiled hands. Let cool completely, at least 1 hour.
Lift the bars out of the pan using the foil overhang; discard the foil. Cut into squares.
Recipe Summary
Main Ingredients: marshmallows, potato chips, cereal
Course: Dessert