Cheater's Backyard Ribs with South Carolina Sweet Mustard Barbecue Sauce
Everyone Will Be Beggin for This Recipe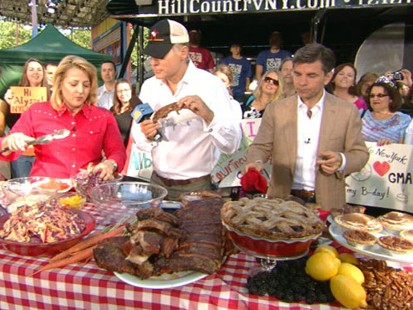 The world's best pit-masters arrive in New York for the annual Big Apple BBQ.
From the kitchen of John Currence
Ingredients
1/2 cup brown sugar
3 tablespoon kosher salt
4 tablespoon smoked paprika
2 teaspoon cayenne
2 tablespoon garlic powder
2 tablespoon onion powder
1 1/2 tablespoon dry mustard
3 1/2 tablespoon fresh cracked black pepper
1/2 tablespoon ground cumin
For the bbq sauce:
4 cup yellow mustard
1 ½ c. brown sugar
2 tablespoon molasses
¼ cup honey
1 tablespoon tabasco
1 tablespoon worcestershire sauce
½ cup strong coffee
1/8 teaspoon cinnamon
2 tablespoon liquid smoke
¾ tablespoon salt
1 ½ tablespoon fresh ground black pepper
Cooking Directions
For the dry rub:
Blend the above ingredients together and store in an airtight container.
Rib Process:
Rub racks generously with dry rub and allow to sit overnight (in the fridge) Prepare a hot fire on one side of the grill.
Wrap ribs tightly in plastic, and then in foil. Place racks on a rib cooker on the side of the grill away from the fire.
Stoke fire to maintain a constant temperature (with the top closed, the grill should stay about 300-350º)
Allow ribs to cook for 5 hours. Remove ribs from grill and allow to cool. Spread fire evenly across the grill and stoke again. Remove cooled ribs from foil and plastic and brush with South Carolina Sweet Mustard Sauce and place on hot grill to reheat. Remove, brush with sauce again and devour....
Recipe courtesy John Currence.
This recipe was styled by chef Karen Pickus for Good Morning America.
Recipe Summary
Main Ingredients: brown sugar, salt, paprika, pepper, cumin
Course: Dinner
More Info: Kid Friendly