Checkerboard Cookies
A Semi-Homemade Holiday Must-Have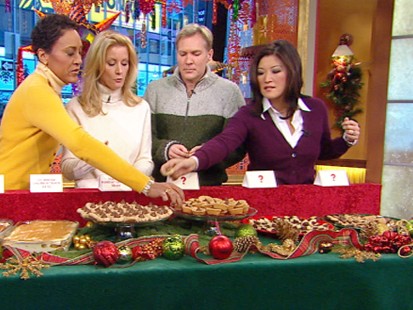 Sandra Lee explains how to prepare a great holiday dessert for cheap.
From the kitchen of Sandra Lee
Ingredients
1 package (18-ounce) refrigerated Pillsbury sugar cookie dough, room temperature
2 tablespoons unsweetened Hershey's cocoa powder
2 tablespoons semi-sweet mini chocolate morsels
Cooking Directions
1. Divide sugar-cookie dough into 3 equal pieces. Knead cocoa powder into one piece of dough and mini chocolate morsels into another.
2. Roll each of the 3 pieces of dough into a rope about 3/4 inch in diameter. On ungreased cookie sheet, place 2 of the ropes parallel with sides touching and gently press the third onto top to form a triangle. Refrigerate for 30 minutes until dough is firm.
3. Preheat oven to 350 degrees. Slice dough into 1/2-inch-thick slices, and space 2 inches apart on ungreased cookie sheet. Bake for 10 minutes or until bottoms are golden brown. Cool on cooling rack.
Makes 24 cookies
Prep time 20 minutes
Chilling time 30 minutes
Baking time 10 minutes per batch
Recipe Summary
Main Ingredients: cookie dough, chocolate chips, cocoa
Course: Dessert, Snack