Emeril Lagasse's Three-Cheese Creamed Spinach
A Kicked Up Side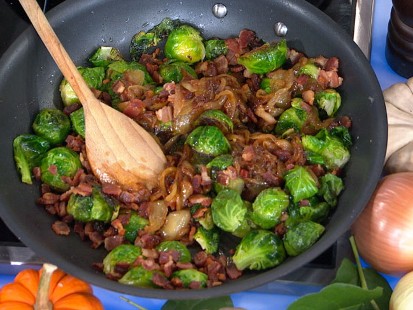 Lagasse whips up voter favorite roasted Brussels sprouts with caramelized onions and pancetta.
From the kitchen of Emeril Lagasse
|
Emeril Lagasse's phrase, "kick it up a notch" became famous for a reason—the New Orleans-raised chef raises flavors to the next level. This year, take your Thanksgiving to Emeril's star status with his recipe for Three-Cheese Creamed Spinach.
Ingredients
4 tablespoons unsalted butter plus 2 tablespoons softened
1 cup diced yellow onion
1 tablespoon minced garlic
1 ¼ teaspoons sea salt
½ teaspoon freshly ground black pepper
¼ teaspoon crushed red pepper
2 pounds prewashed baby spinach
8 ounces Neufchatel cheese, cubed
½ pound triple cream brie, cut into ¼ inch cubes
½ cup grated Parmigiano-Reggiano
2 tablespoons all-purpose flour
Cooking Directions
Set a medium heavy saucepan over medium-high heat and add the 4 tablespoons butter. When the butter begins to bubble, add the onion, the garlic, and ½ teaspoon of the salt. Cook the onions and garlic until translucent, 4 to 6 minutes. Add the spinach in batches, stirring after each addition until all of the spinach has wilted, 6 to 8 minutes. Stir in the Neufchatel, brie and Parmesan. Cover, reduce heat to medium, and cook for 6 to 8 minutes longer, or until cheeses are melted and the spinach is tender.
In a small bowl, make a beurre manie by mixing the 2 tablespoons softened butter and flour with a fork until you have formed a smooth paste. Stir the beurre manie into the spinach mixture and cook, stirring for 6 to 8 minutes longer or until the mixture thickens.
Serve immediately or store in an air tight container for up to 3 days.
Recipe courtesy Emeril Lagasse, adapted from Emeril's Sizzling Skillets, HarperCollins Publisher, New York, 2011, copyright MSLO, Inc., all rights reserved
Other Recipes That You Might Like