Cheeseburger Bloody Mary
Try This Meal in a Drink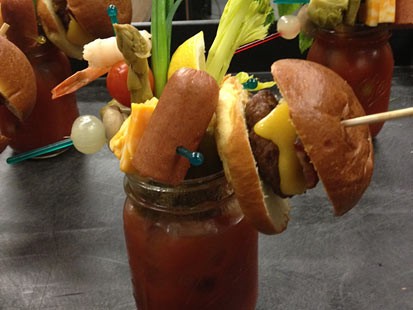 From the kitchen of Sobelman's Pub & Grill
Try this fully-loaded cheeseburger bloody mary from Sobelman's Pub and Grill.
Ingredients
1 scallion
1 stalk celery
1 colby cheese wedge
A Polish sausage
A pickled mushroom, onion and brussel sprout
A pickle and olive
Shrimp, cherry tomato and lemon wedge
Asparagus
1 burger slider
Bloody Mary Mix
Cooking Directions
Prepare the bloody mary mix according to instructions.Add asparagus and celery to the drink.
Place mushroom, onion and Brussels sprout on one skewer and place in drink. Place shrimp, tomato and lettuce wedge on a skewer and place in drink.
Skewer the cheese and sausage and place in drink. Skewer the cheeseburger and place in drink.
Enjoy!
Recipe Summary
Main Ingredients: pickle, olive, shrimp, cherry tomato, asparagus