Dan Whalen's Cheesesteak Stuffed Soft Pretzel Calzones
Next-Level Comfort Food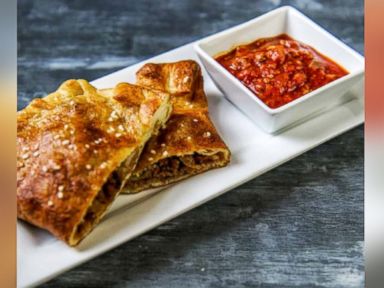 From the kitchen of Dan Whalen
Dan Whalen, founder of The Food In My Beard blog, is coming out with a comfort food book that stuffs your favorite foods inside more of your favorite foods. Try his recipe below for a Cheesesteak Stuffed Soft Pretzel Calzones.
Ingredients
Pretzel Dough
1/2 cup (120 ml) warm water
Pinch of sugar
1/2 (2 1/4-teaspoon) package active dry yeast
2 cups (240 g) flour, plus more for dusting
1 1/2 teaspoons salt
1 tablespoon (14 g) butter, softened
Cheesesteak filling
2 or 3 large onions
2 tablespoons (28 g) butter
1 1/4 pounds (568 g) shaved rib eye (any shaved steak will work)
1 cup (135 g) sliced banana peppers
8 ounces (225 g) Jack, American, or provolone cheese (or a mixture)
1 cup (120 g) baking soda, for boiling
1 egg
Coarse or pretzel salt
Simple marinara sauce, mustard, or ranch dressing, for serving
Cooking Directions
Make the dough: Stir the water, sugar, and yeast together in a small bowl and allow to sit for 5 to 10 minutes until it becomes foamy. Meanwhile, mix the flour, salt, and butter in another bowl until well combined (you can use a stand mixer with the dough hook for this portion). Pour the yeast mixture over the flour mixture and stir until incorporated, then begin to knead. Knead for about 7 to 10 minutes, until the dough is no longer sticky and is smooth to the touch, or if using a stand mixer, until it doesn't stick to the sides of the bowl anymore. Put your dough into a clean buttered bowl and cover with a clean towel. Let it rise for 1 hour.
Make the filling: Slice the onions into thin 1/4-inch (6 mm) round slices. In a frying pan over medium heat, melt the butter and cook the onions until very browned and less than quartered in size, about 40 minutes. Meanwhile, on a cast-iron flat grill or skillet, sear the meat over high heat to brown and cook through. Add the onions and banana peppers to the meat and cook together for about 3 minutes. remove from the heat and allow to cool. Mix in the cheese.
Stuff it: This amount of dough should make 4 large calzones with the meat. If it seems like too much dough, though, feel free to discard however much you need. Split the dough into 4 pieces and roll it out into rounds about ½ inch (1.3 cm) thick. Divide the meat mixture evenly among the rounds. Fold the dough in half to seal the calzone. roll up the edges decoratively to replicate pretzel knots (see picture).
Boil and bake: Bring water to a boil and add the baking soda to it. Also, preheat the oven to 425°F (230°C, or gas mark 8). Beat the egg with a splash of water for an egg wash. one by one, drop the pretzel calzone packets into the boiling water and boil for about 1 minute. remove from the pot and place right on a baking sheet. When you have boiled all the pretzels, give them all a quick brush with the egg wash and sprinkle with some coarse salt (or pretzel salt if you can find the stuff). Pop in the oven for 15 minutes, until nicely browned and cooked through. Serve with the simple marinara or just some mustard or ranch dressing.
Recipe Summary
Main Ingredients: active dry yeast, flour, butter, onions, rib eye, banana peppers, cheese
Course: Dinner