Chef Dan Kluger's Black and White Cookies
Watch step-by-step how to make the recipe.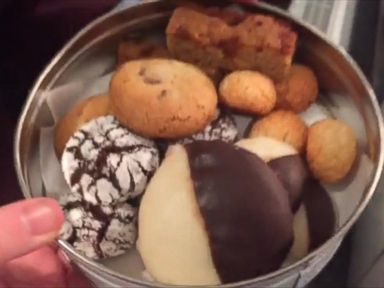 Chef Dan Kluger and Gretchen Holt-Witt bake tried-and-true sparkly ginger snaps and black-and-white cookies, live.
From the kitchen of Dan Kluger
"GMA" is showcasing the ultimate cookie recipes from viewers and pros across the country in a special cookie countdown to Christmas. If you're looking to mix things up this holiday season, Chef Dan Kluger's black and white cookies fits the bill.
Kluger was nominated for the 2014 James Beard Award for Best Chef New York City and is the owner of Loring Place in Manhattan.
Watch the step-by-step video above to learn how to make Kluger's cookies yourself at home and get all recipe details below. Plus, viewers have shared their family cookie traditions with "GMA," from gingerbread recipe passed down for generations to cookies made with a secret ingredient like candy bars inside.
Click here for the featured recipes.
Ingredients
Yield: 100 cookies.
158g Butter
200g Sugar
2 tsp. Baking Powder
½ tsp. Salt
½ tsp. Vanilla Extract
½ tsp. Almond Extract
1 Pc. Lemon Zest
2 Pcs. Eggs
312g All-Purpose Flour
200g Buttermilk
For the Black and White Glazes:
360g Confectioner's Sugar
2 Tbsp Water
2 Tbsp Lemon Juice
360g Confectioner's Sugar
2 Tbsp Cocoa Powder
1 Tbsp Lemon Juice
2 Tbsp Water
2 Tbsp Coffee
Cooking Directions
Lightly cream butter and sugar.
1. Beat in baking powder, salt, and extracts.
2. Add eggs, one at a time.
3. Alternate adding flour and buttermilk.
4. Pipe all batter into 1 inch rounds.
5. Bake at 350°F for 7-8 minutes, just until starting to color on the edges.
For the Black and White Glazes:
1. Whisk confectioner's sugar and liquid ingredients together until smooth. Glazes may need to be thinned slightly with one additional teaspoon of liquid.
2. Put into piping bags to ice cookies.
Do you have an original holiday cookie recipe that your family and friends devour? Click HERE to share your recipe!
Recipe Summary
Main Ingredients: butter, sugar, vanilla extract, almond extract