Chef Hung Huynh's Healthy Baked Asian Wings
Enjoy These Wings Without the Guilt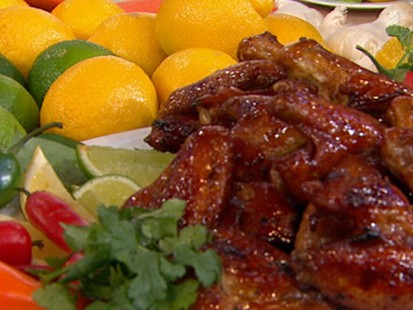 "Top Chef's" Hung Huynh shows the TV star how to whip up a batch of his baked Asian wings.
From the kitchen of Chef Hung Huynh
|
Try this healthy wing recipe from "Top Chef's" Hung Huynh.
Ingredients
2 cups light soy
1 cup sugar
1 cup honey
1 cup bourbon
2 tablespoons minced ginger
2 tablespoons cayenne or 8 tablespoons Tabasco
6 cloves minced garlic
4 to 6 pounds of chicken wings
Cooking Directions
Marinate all ingredients over night or 6 hours ahead for best tasting. Bake in preheated oven at 350 for about 20-25 minutes or until it reaches 165 degrees internally. Take left over marinade and baste between cooking.
Recipe courtesy Chef Hung Huynh.
This recipe was styled by chef Karen Pickus for Good Morning America.
Other Recipes That You Might Like