'GMA' lunch break: Chef John Deloach's spaghetti carbonara
Try This Delicious Pasta Dish!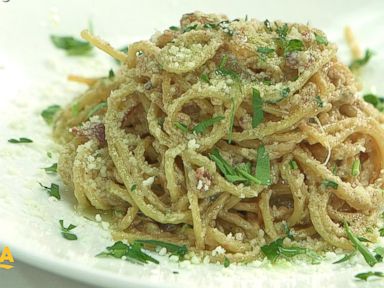 Watch this step-by-step video to learn how to make this classic pasta dish from chef John Deloach at Lavo in New York City.
From the kitchen of John Deloach
"GMA" caught up with chef John Deloach, the executive chef at LAVO, for lunch in New York City. Try Deloach's recipe for spaghetti carbonara.
Watch the "GMA" Lunch Break live stream on ABCNews.com/live and the GMA Facebook page every Monday, Wednesday and Friday at 12:30 p.m. ET.
Ingredients
3 oz Spaghetti, uncooked
2 oz Onions, sliced and sauteed, caramelized
1 oz Bacon, Diced
1 oz Pancetta, Diced
1 oz Proscuitto, Diced
1 oz Parmigiano Reggiano cheese
1 oz Pecorino Romano
Salt
Pepper
2 oz Heavy Cream
1 oz Extra Virgin olive oil
Chopped Garlic
1 Fresh Egg yolk / Lavo uses pasteurized.
2 oz White wine
Parsley
Black Pepper
Cooking Directions
Sauce Directions
In a saute pan heat the olive oil and saute the bacon, pancetta, and prosciutto until lightly browned.
Add the onions and cook until lightly caramelized, add the garlic, lightly brown.
Deglaze with white wine, cook until evaporated.
Add cream and reduce by half.
Add pasta to finish cooking in sauce.
Add cheese, incorporate into pasta, add egg yolk and add salt and black pepper.
Garnish with parsley and fresh cracked black pepper and grated cheese.
Pasta Cooking
Fill a large 8 qt stock pot with water bring to a boil. Add sea salt until the water tastes like the Ocean.
Add the spaghetti to the rolling boiling water by holding the ends and immersing slowly into water carefully.
Move pasta about gently, let pasta cook about 8-9 minutes until al dente.
Drain into a colander, toss lightly with a little olive oil. Hold 2 minutes. Add to sauce.
Recipe courtesy John Deloach/LAVO.
Recipe Summary
Main Ingredients: spaghetti, egg, pancetta, bacon, garlic, white wine, olive oil
Course: Lunch