Chef Josh Capon's Brisket with Pomegranate Seeds
A Great Jewish Meal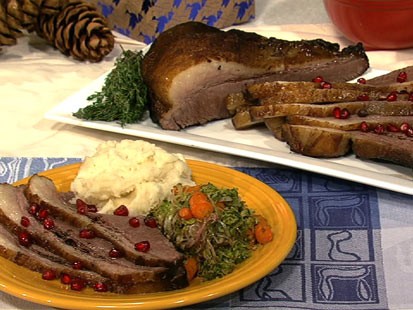 From the kitchen of Josh Capon
Ingredients
5-7 pound Brisket
4 cups Fresh Pomegranate Seeds
2 cups Pomegranate Juice
2 cups Red Wine
2 Carrots
2 White Onions
5 Ribs Celery
6 Cloves Garlic
3 tablespoons Grape Preserves
1 Bunch Fresh Thyme
4 cups Chicken Stock
Salt and Pepper
Cooking Directions
Season brisket with kosher salt and pepper and sear on all sides in a hot pan.
Remove brisket and put all vegetables and garlic in roasting pan and caramelize.
Deglaze with wine and pomegranate juice.
Add the grape preserves, fresh thyme, half the seeds, and chicken stock.
Bring to a simmer, cover with aluminum foil and put in a 300 degree oven for 2- 3 hours.
Remove from oven and let cool in braising liquid.
Remove meat, strain sauce and simmer and skim.
Slice against the grain and serve with horseradish whipped potatoes and charred Brussels sprouts and baby carrots, and garnish with fresh pomegranate seeds.
Recipe Summary
Main Ingredients: brisket, pomegranate seeds, garlic, thyme, chicken stock
Course: Main Course