Chef Josh Capon's Italian panini recipe
Try this classic pressed sandwich recipe at home.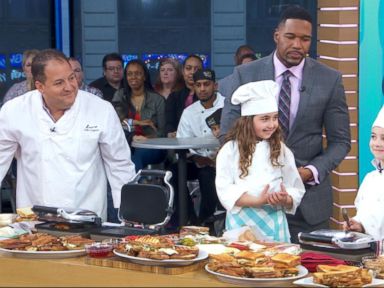 The chef, with his children, shares healthy and simple recipes that kids can make themselves.
From the kitchen of Chef Josh Capon
Celebrity chef Josh Capon, and his two kids, Amanda and Max, appeared on "Good Morning America" on Take Your Child to Work Day. Capon shared his classic pressed Italian sandwich recipe that you can make in your own kitchen with your kids using the recipe below.
Ingredients
2 ounces prosciutto
2 ounces mozzarella
4 basil leaves
1/2 roasted red pepper sliced thin
2 slices of brioche bread
1 tablespoon of softened butter
Cooking Directions
To assemble sandwich put half mozzarella on one side of the bread. Add ½ roasted red pepper on top. Then place 4 basil leaves on top and add prosciutto. Continue to put remaining mozzarella on top of the prosciutto.
Please butter both outside slices of bread and place on a pre-heated sandwich press at 350 degrees. Cook until golden brown and cheese is melted. Slice in half and serve immediately.
Recipe Summary
Main Ingredients: prosciutto, mozzarella, brioche, basil
Course: Main Course, Lunch