Chef Richard Blais' Spicy BouilliaBlais
A Spicy, Heart-Healthy Soup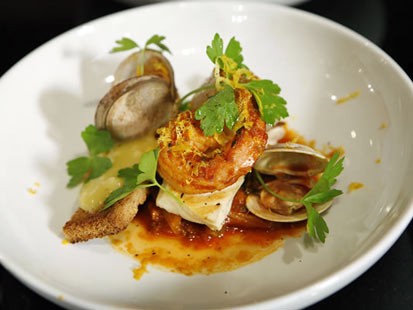 From the kitchen of Richard Blais
In honor of American Heart Month, "Top Chef" winner Richard Blais has created recipes that are quick to make and good for you, too. Blais lost 60 pounds since 2002, by making heart-healthy recipes. Forty-two million women suffer from heart disease in America, and Blais is committed to inspiring healthy eating.
Here are a few tips that will help you get cooking:
• Get Creative: Stimulate the senses with a variety of colors, smells, textures and flavors to create a complex dish that keeps your taste buds guessing.
• Take Heart: Making a few simple adjustments like choosing foods with the trusted American Heart Association's (AHA) Heart-Check mark can make a big difference. And, there are more of these products than you may think. In fact, Campbell makes nearly 100 American Heart Association Heart-Check mark certified foods.
• Start with Your Pantry: Whether it's zesty vegetable juice, creamy soup, fresh bread or herbs and spices, everyday pantry items can provide the building blocks to a great-tasting heart-healthy dish.
Watch Blais prepare one of his favorite heart-healthy dishes, Spicy BouilliaBlais, as part of a friendly competition on www.Facebook.com/CampbellsKitchen and vote for your favorite recipe to trigger a $1 donation to the American Heart Association's Go Red For Women movement.
Ingredients
2 lemons, medium
2 tablespoons, plus 2 teaspoons olive oil
1 medium carrot, peeled and diced (about 1/2 cup)
1/4 cup celery, sliced
1/2 cup fennel, diced
20 cloves garlic, peeled
1 small onion, diced (about 1/4 cup)
4 teaspoons fennel seed
2 teaspoons dried oregano leaves, crushed
2 teaspoons dried thyme leaves, crushed
4 cups Spicy Hot Low Sodium V8 100% Vegetable juice
4 cups Low Sodium V8 100% Vegetable juice
8 clams
1/2 cup fresh basil leaves, chopped
4 fresh halibut fillets (about 12 ounces total)
4 fresh scallops
4 fresh shrimp, peeled and deveined
1 teaspoon ground black pepper
1/2 cup fresh parsley, chopped
1 can (10 3/4 ounces) Campbell's Healthy Request Condensed Cream of Chicken Soup
1 slice Whole Grain 100% Whole Wheat Bread, toasted and cut in quarters
Cooking Directions
Grate and zest lemon; squeeze juice into separate containers, set aside.
Heat 2 tablespoons oil in 12-inch skillet over low heat. Add carrot, celery, fennel, 12 cloves sliced garlic, onion, fennel seed, oregano and thyme. Cook until vegetables are soft but not browned, stirring occasionally.
Add vegetable juices and clams to skillet. Increase heat to medium; cook until clams open. Remove clams from skillet; cover, keep warm. Cook remaining vegetable juice mixture until reduced by one-third. Stir in basil and half lemon zest.
Season fish, scallops and shrimp with black pepper. Heat 2 teaspoons oil in separate 12-inch skillet over medium-high heat. Add fish, shrimp and scallops; cook until browned on both sides and cooked through. Sprinkle with remaining lemon zest, lemon juice and parsley.
Mince remaining garlic; stir in remaining oil in medium bowl. Stir in 1/2 cup soup. Spread soup mixture on bread quarters. Reserve remaining soup for another use.
Divide fish, scallops, shrimp and vegetable juice mixture among 4 shallow bowls. Place 1 bread quarter on each fish fillet. Top each with 2 clams.
Ingredient Note: Before cooking, discard any clams that remain open when tapped. After cooking, discard any clams that remain closed.
Nutrition Information Per Serving: 422 Calories, Total Fat 13g, Saturated Fat 2g, Trans Fat 0g, Carbohydrates 44g, Cholesterol 54mg, Sodium 591mg, Fiber 9g, Protein 33g, Vitamin A 166%DV, Vitamin C 143%DV
Recipe courtesy Richard Blais.
This recipe was styled by chef Karen Pickus for Good Morning America.
Recipe Summary
Main Ingredients: lemons, olive oil, fennel, halibut, scallops