Wolfgang Puck's Chestnut Puree
An Earthy Side Dish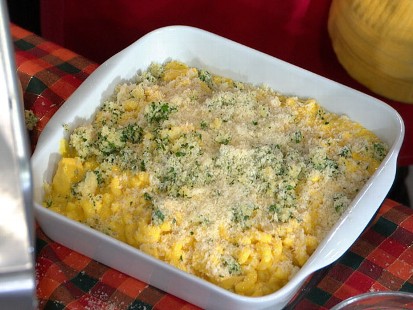 Celebrity chef makes a delicious side dish with Baked Macaroni and Cheese with Turkey.
From the kitchen of Wolfgang Puck
|
Known for his fresh, seasonal California cuisine, Wolfgang Puck is one of America's premier chefs. Take your Thanksgiving to the next level this year with Wolfgang's recipe for chestnut puree.
Ingredients
2 tablespoons oil
2 tablespoons butter
1/2 cup onion, finely chopped
1 cup port wine
2 sprigs of fresh thyme
2 pounds chestnuts
3 cups organic chicken stock
Salt and pepper to taste
Cooking Directions
Heat a heavy saucepan. Add the oil, butter, and chopped onions. When the onions turn slightly brown, deglaze with port wine.
Add thyme, chestnuts, chicken stock, and a little salt and pepper. Cover and cook until chestnuts are tender and the chestnuts have absorbed most of the liquid.
Serve as whole braised chestnuts or pass through a ricer to make a wonderful chestnut puree.
Recipe courtesy Wolfgang Puck
This recipe was styled by chef Karen Pickus for Good Morning America.
Other Recipes That You Might Like