The Pioneer Woman's Chicken Florentine Pasta
The Perfect Pasta Salad Recipe for Your Summer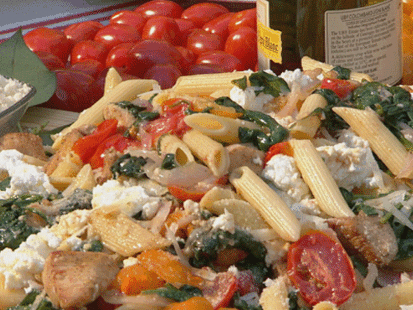 Food Network star and host of "The Pioneer Woman" also prepares her olive cheese bread.
From the kitchen of Ree Drummond
|
Ingredients
8 ounces penne
1 pound boneless, skinless chicken breasts
Salt and pepper, to taste
1 half stick (4 tbsp.) Butter with Olive Oil & Sea Salt
1/2 red onion, thinly sliced (about 1 ½ cups)
4 cloves garlic, minced (about 1 tablespoon)
3/4 cups dry white wine
3/4 cups low-sodium broth, more if needed
1 (6-ounce) bag baby spinach
1 cup red grape tomatoes, halved lengthwise
1 cup yellow grape tomatoes, halved lengthwise
1/2 cup crumbled feta cheese
4 ounces Parmesan cheese, shaved
Cooking Directions
Cook pasta according to package directions in lightly salted water. Drain and set aside. Cut chicken breasts into chunks (about 1" pieces) and sprinkle on salt and pepper.
Melt Butter with Olive Oil & Sea Salt in a large skillet over medium heat. Add chicken chunks in a single layer and do not stir for a minute or two in order to allow the chicken to brown on the first side. Turn the chicken and brown on the other side. Cook until done, then remove chicken from the skillet.
Add the red onion and the garlic and stir to cook, about 1 1/2 minutes. Pour in wine and broth, stirring to deglaze the pan. Allow the liquid to bubble up, then continue cooking it until it's reduced by at least half.
Turn off the heat. Add spinach, tomatoes, chicken, and cooked pasta to the skillet. Toss to combine; the spinach will wilt as you toss everything. At the end, toss in the feta and the Parmesan.
Serve with extra Parmesan shavings.
Prep time: 20 minutes
Cook time: 15 minutes + 12 for pasta
Total Time: 47 minutes
Yield: 11 cups (about 6 servings)
Recipe courtesy Ree Drummond.
This recipe was styled by chef Karen Pickus for Good Morning America.
Other Recipes That You Might Like