Justin O'Connor's Chicken Meat Loaf with Guinness Mustard & Herbs
St. Patrick's Day Food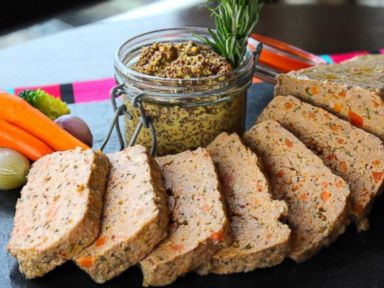 From the kitchen of Justin O'Connor
It's pretty safe to say the the Guinness Storehouse executive chef knows how to cook Irish specialties using the stout beer. Celebrate St. Patrick's Day this year with chef Justin O'Connor's recipe for Chicken Meat Loaf with Guinness Mustard & Herbs.
Ingredients
2 pounds ground chicken
5 tablespoons Guinness wholegrain mustard
1/2 cup cream
2 eggs
3/4 cup fresh breadcrumbs
2 cloves of garlic crushed
2 teaspoons of thyme chopped
2 tablespoons of chopped parsley
1 1/2 tablespoons smoked paprika
1 cup fine chopped carrot
Salt & pepper
Cooking Directions
Combine all ingredients together, season with salt & pepper.
Place mixture into a greased bread tin, 9" x 14" approximately. Place the tin in a bain marie of water and baked for 1 hour to 1 hour 15 minutes at 320F or until the internal temperature reaches 165F.
Serve hot or leave over night in the fridge to cool and serve sliced cold.
Recipe courtesy Guinness Storehouse.
Recipe Summary
Main Ingredients: ground chicken, mustard, eggs, breadcrumbs
Course: Dinner