Mario Batali's $1.40 Chicken Thighs With Tomatillo Salsa, Rice and Beans
Budget Bites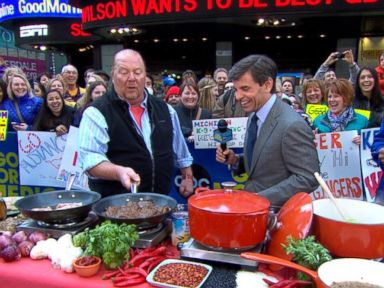 "The Chew" star shows you how to save money without sacrificing flavor or nutrition.
From the kitchen of Mario Batali
With 26 successful restaurants under his belt, Mario Batali certainly knows about making delicious food while minding the bottom line. And he's using that knowledge to give back by creating recipes with the Food Bank for New York City that fit even the smallest of budgets—his recipe for chicken thighs with tomatillo salsa and rice and beans below comes in at only $1.40 per serving, which is the amount provided by food stamps for New Yorkers in need through the Supplemental Nutrition Assistance Program. To learn more about the food bank's work, visit their website, www.foodbanknyc.org.
Ingredients
1 1/2 cups canned black beans
2 tablespoons cumin
2 tablespoons salt
2 tablespoons oregano
2 tablespoons brown sugar
2 tablespoons black pepper
6 boneless chicken thighs
1 cup long grain white rice
1 tablespoon olive oil, plus 2 TB
1 red onion
1 teaspoon hot chili flakes
2 medium tomatillos
1/2 bunch cilantro
2 cloves garlic
4 ounces tomato paste
1 lemon
Cooking Directions
In a small bowl, combine cumin, salt, oregano, brown sugar and pepper and then sprinkle over thighs and place in a plastic bag to marinate overnight.
The next day, halve the onion and finely dice half. Thinly slice the other half and set the slices aside.
Rinse canned black beans in cold water. Heat the oil in a saute pan and add the diced onion and the chili flakes and cook until deep golden brown, about 4 minutes. Add the drained black beans and 4 cups of water and bring to a boil, then lower heat and simmer until tender, about 45 minutes. Season with salt and pepper and set aside.
Cook the rice according to package directions; it should take about 30 minutes.
Place the tomatillos, tomato paste, cilantro (save some for salad) and the garlic in a blender with 1 cup water and blend until smooth and set aside.
Heat a skillet over medium heat and add oil. Saute the chicken thighs until golden brown on the first side, then turn and cook 15 seconds. Add the blended tomatillo mixture, bring to a boil, lower the heat and simmer for five minutes
In a separate bowl, toss the sliced onion with the remaining cilantro and a pinch of salt
Serve two thighs on each plate with rice and beans and spoon some sauce over. Garnish with the red onion salad and a lemon wedge on each plate.
Recipe styled by Karen Pickus for "Good Morning America."
Recipe Summary
Main Ingredients: chicken thighs, spices, white rice, tomatillos
Course: Dinner