'GMA' Lunch Break: Jessi Singh's Chickpea Dhal Lunch Bowl Recipe
As Seen on the 'GMA' Lunch Break Live Stream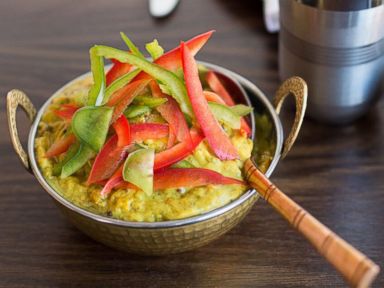 From the kitchen of Jessi Singh
"GMA" caught up with chef Jessi Singh at his restaurant, Babu Ji, in San Francisco. Singh shared his recipe for a chickpea dhal lunch bowl.
Watch the "GMA" Lunch Break live stream on ABCNews.com/live and the GMA Facebook page daily at 12:30 p.m. ET.
Ingredients
4 cups of split chickpeas [Chana Dhal]
4 cups of water
3/4 cup of oil
1/2 [heaping] tablespoon of cumin seed
1/2 large Spanish onion, chopped
Knob of fresh ginger, peeled and chopped (thumb size piece of ginger)
1 1/4 tablespoon garlic, chopped
3/4 [heaping] cup of diced tomato
1/2 [heaping] tablespoon of Thai green chili, chopped
1.5 cup + 3 tablespoons of coconut milk
1/2 [heaping] tablespoon of turmeric powder
1/2 [heaping] tablespoon of coriander
1/2 [heaping] tablespoon of cumin
1/3 tablespoon of Garam masala
Salt (to taste)
Cooking Directions
Add water and split chickpeas (dhal) to a pot, cook over medium heat for 20-30 min or until soft.
While the dhal is cooking, in a sauté pan over medium heat, add oil, cumin seeds, onion, ginger, garlic, tomato and green chili. Sautee for about 10 minutes, stirring constantly until onions are translucent and the aromatics are fragrant.
Add salt, turmeric, coriander, cumin, garam masala to the pan and stir constantly for about more 10 minutes, or until spices are absorbed and become a paste in the consistency of ketchup. (Add small amounts of water if required to achieve this consistency.)
Add coconut milk to the paste, stir until fully incorporated, about 5 min.
Add spiced coconut milk to dhal and mix until incorporated.
Garnish with julienned fresh ginger, micro greens or your favorite herbs.
Recipe courtesy Babu Ji/Jessi Singh.
Recipe Summary
Main Ingredients: chickpears, water, oil, ginger, farlic, chili, tomato
Course: Lunch