Mom blogger Alice Choi's chickpea veggie meatballs recipe
Try these easy kid friendly veggie meatballs!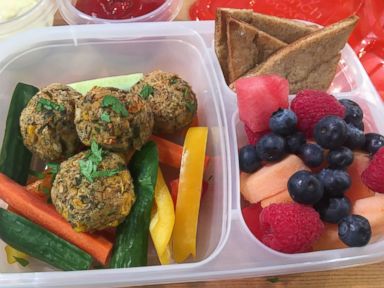 From the kitchen of Alice Choi
Hip Foodie Mom Alice Choi shared her recipe on "Good Morning America" for her chickpea veggie meatballs. Try out the delicious recipe at home to make a tasty meat-free meal that's kid friendly!
Ingredients
2 (15-ounce) cans of chickpeas or garbanzo beans, drained and rinsed
1 (15-ounce) can of sweet corn, drained
1/2 small onion, roughly chopped
½ cup roasted eggplant, roughly chopped
½ cup zucchini, roughly chopped
2 to 3 cloves garlic
1/2 teaspoon paprika
1/2 teaspoon ground coriander
1/2 teaspoon cumin
1 heaping cup panko or regular bread crumbs + more if needed
1/4 cup ground flaxseed meal
1 teaspoon lemon zest
1 egg, beaten
1/4 cup parsley, finely chopped + more if needed
Salt and pepper
Cooking Directions
*Note for the cook: Be careful not to blend/pulse the ingredients for your meatballs for too long in your food processor. You still want some texture so the meatballs are able to hold together while cooking.
Preheat your oven to 400 degrees and line a baking sheet with parchment paper.
Using a food processor, pulse together the chickpeas, corn onions, roasted eggplant, zucchini, garlic, paprika, ground coriander and cumin until just combined. Do not over pulse, you want to retain some texture for your meatballs.
Remove mixture from your food processor and into a large sized mixing bowl. Add in the panko, flaxseed meal, lemon zest, beaten egg, parsley and season generously with salt and pepper. Using your hands or a rubber spatula, mix together until combined.
Shape mixture into balls, about 1.5 inches in diameter, and place onto the prepared baking sheet. Bake for about 20 to 25 minutes, or until nicely golden brown and crispy on the outside.
Pack lunch with tahini dipping sauce, ketchup, BBQ sauce, or hummus with whole wheat pita bread and raw veggie sticks or fruit.
Recipe Summary
Main Ingredients: chickpeas, onion, corn, bread crumbs
Course: Lunch, Dinner