Chili Con Carla
Warm Up With This Fall Favorite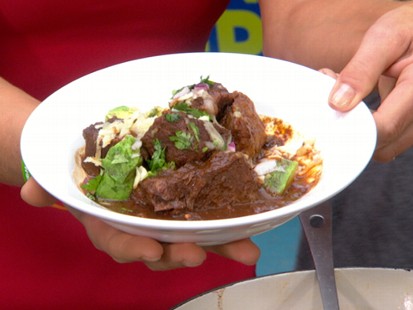 Co-stars of ABC?s popular show "The Chew" cook meals from "The Chew: Food. Life. Fun."
From the kitchen of Carla Hall
Try Carla Hall's chili con Carla recipe. It's the perfect warm meal for chilly fall nights. To pick up a copy of Hyperion's "THE CHEW: FOOD. LIFE. FUN.", visit the site here.
Ingredients
6 large dried ancho chilies
2 tablespoons canola oil
1 1/4 lb onions, chopped
1 5 pound flat-cut beef brisket, cut into 2 1/2 to 3 inch cubes
Coarse kosher salt, to taste, plus 1 1/2 teaspoons
Pepper, to taste
6 large cloves of garlic, peeled
2 teaspoons cumin seeds
1 teaspoon ground coriander
1 3/4 cup fire-roasted diced tomatoes with green chilies
1 12 ounce bottle of Mexican beer
1 7 ounce can roasted green chilies, diced
2 tablespoons chili powder
4 ounces dark chocolate, chopped
Red onion, sliced to garnish
Monteray Jack cheese, grated, to garnish
Avocado, diced, to garnish
Tortillas to garnish
Cilantro, to garnish
Sour cream to garnish
Cooking Directions
Place the ancho chilies in a medium bowl. Pour enough boiling water to cover them and soak for about 4 hours, or until soft.
Preheat oven to 350.
In large, ovenproof Dutch oven over medium-high heat, add 2 tablespoons canola oil and the onions and cook until translucent. Season the brisket liberally with salt and pepper. Add this to the pot and toss to coat with fat.
Drain the chilies, reserving the soaking liquid. Pour 1 cup of the soaking liquid along with the chilies into a blender with the garlic, cumin seeds, coriander and salt. Blend until pureed then add to Dutch oven, along with the tomatoes, beer, green chilies, chili powder, and chocolate.
Stir and bring to a simmer, cover, and transfer to the oven. Cook for two hours, and then remove the lid and continue to cook for 45 minutes, until the brisket is almost tender. Skim the fat from the surface and add water if necessary to keep the brisket submerged. Cook an additional 45 minutes until meat is tender.
To serve, spoon into bowls and top with desired garnishes.
Recipe courtesy Carla Hall.
This recipe was styled by chef Karen Pickus for Good Morning America.
Recipe Summary
Main Ingredients: canola, onions, beef, cumin, coriander
Course: Dinner