'GMA' lunch break: Chef Michael Anthony's chimichurri on steak recipe
Try This Steak Recipe!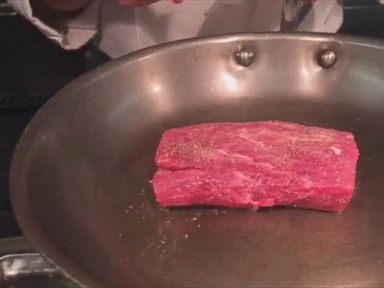 ABC News' Jesse Palmer visits Gramercy Tavern in New York City and makes chimichurri on steak with chef Michael Anthony.
From the kitchen of Michael Anthony
"GMA" caught up with Michael Anthony, the executive chef at Gramercy Tavern, for lunch in New York City. Try this recipe from Gramercy Tavern's menu for chimichurri on steak.
Watch the "GMA" Lunch Break live stream on ABCNews.com/live and the GMA Facebook page every Monday, Wednesday and Friday at 12:30 p.m. ET.
Ingredients
Ingredients for the chimichurri:
1/2 cup olive oil
2 small onions, finely chopped
2 cloves garlic, minced
1 teaspoon minced fresh thyme
1 teaspoon minced fresh rosemary
Salt and pepper
5 Pickled peppers, finely diced
1 red bell pepper, finely diced
1 teaspoon dried oregano
1 teaspoon ancho chile powder
Pinch of cayenne
1/4 cup red wine vinegar
1 cup mixed fresh herbs (such as parsley, cilantro, dill, chives), minced
Ingredients for the steak:
1 (1 1/2 pound) rib-eye steak, 1 1/2 to 2 inches thick
1 tablespoon olive oil
Salt and pepper
2 tablespoons butter
1 clove garlic, smashed
1 sprig thyme
1 sprig rosemary
Cooking Directions
Heat 1 tablespoon of the oil in a small saucepan over medium heat. Add the onions and garlic and sweat until softened, about 6 minutes. Add the thyme, rosemary, salt, and pepper and stir for a minute. Add the pickled peppers, bell peppers, oregano chile powder, and cayenne and continue to sweat for about 5 minutes.
Add the vinegar and cook until it evaporates, then add the rest of the oil and continue to barely simmer until the onions and peppers are soft, about 7 minutes more. Stir in the herbs, and add salt and pepper.
Transfer to a bowl and let cool while you make the steak. The sauce is good warm or at room temperature; store in the refrigerator, where it will keep for about 3 days.
Remove the steak from the refrigerator and let it come to room temperature, about 15 minutes.
Heat the oil in a medium skillet over high heat. Generously sprinkle the steak with salt and pepper and add to the skillet.
When it starts to brown, reduce the heat to medium and cook until deep brown, about 10 minutes. Flip the steak, cook for 3 minutes, then add the butter, garlic, thyme, and rosemary and regularly bate the steak with pan juices until it's medium-rare, about 6 minutes.
Transfer the steak to a cutting board and let rest for about 10 minutes before cutting against the grain into thick slices. Save the meat juice and add to the sauce.
Serve the sauce.
Recipe courtesy Gramercy Tavern.
Recipe Summary
Main Ingredients: garlic, thyme, rosemary, fresh herbs, steak
Course: Dinner, Main Course