Young & Hungry's Chipotle Chicken Tacos with Mango Salsa
As Seen On TV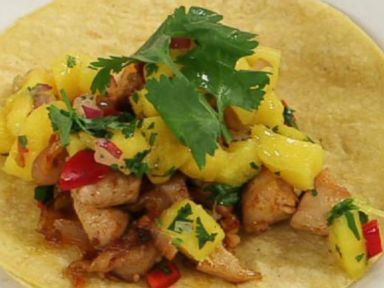 Emily Osment, the star of ABC Family's "Young and Hungry," and Gabi Moskowitz, the blogger who inspired the series, add a kick to this dish with a homemade salsa.
From the kitchen of Young & Hungry
|
Young & Hungry, ABC Family's new show about a young food blogger who makes it big, has some delicious looking -- and affordable -- food. Try one of their recipes for Chipotle Chicken Tacos with Mango Salsa below.
Ingredients
1 pound boneless, skinless chicken thighs, chopped into 1" pieces
1-2 chipotle peppers from a can packed in adobo, diced finely, plus 2 tablespoons of the adobo sauce
Salt and pepper
1 tablespoon extra virgin olive oil
1 medium red onion, half sliced, half diced finely
3 cloves garlic, minced
1 mango, diced into 1/4" pieces
1 handful fresh cilantro leaves, chopped finely
Juice of 1/2 lime
6-8 corn tortillas
Cooking Directions
Combine the chicken with the pepper(s), sauce and 1/2 teaspoon each of salt and pepper in a mixing bowl. Mix well using clean hands or a spoon, making sure each piece of chicken is well-coated. Set aside.
Heat the olive oil in a large frying pan over medium-high heat. Add the sliced onion and garlic and cook for one minute, stirring occasionally. Add chicken and cook for for 7-8 minutes, stirring occasionally. Check a piece of chicken to make sure it's fully cooked through. Turn heat down to low to keep chicken mixture warm.
Toss together the diced onion, mango, cilantro leaves, lime juice and salt and pepper to taste. Set aside.
Heat a dry grill pan or large frying pan over high heat and lightly grill the tortillas on each side. Remove from heat and set aside.
To assemble tacos, place about 1/4 cup chicken mixture in a tortilla and top with the fresh mango salsa. Serve immediately.
Note: Leftovers work well as a brown bag lunch. Simply wrap a few tortillas in foil and pack some of the chicken mixture in a thermos or other heat-safe container and assemble your tacos on the go.
Other Recipes That You Might Like