Chrissy Teigen's Chipotle-Honey Chicken with Mango-Avocado Salsa
Try This Flavorful Dish!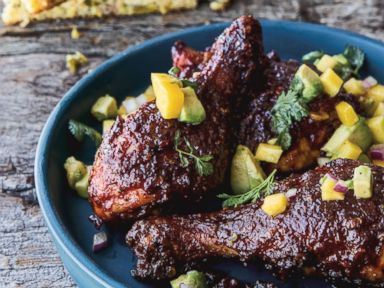 From the kitchen of Chrissy Teigen
Model and "The Fab Life" co-host Chrissy Teigen is sharing her love of cooking in her new book, "Cravings: Recipes for All the Food You Want to Eat." Try this recipe from "Cravings" at your next meal!
Ingredients
For the CHIPOTLE SAUCE
(MAKES 2 1/2 CUPS)
1 1/2 (7-ounce) cans chipotle chiles in adobo
11/2 cups your favorite barbecue sauce
1/2 cup (packed) light brown sugar
1/4 cup bourbon or whiskey
20 cloves garlic
Juice of 1 lime
For the CHICKEN
4 large bone-in, skin-on chicken thighs
4 bone-in, skin-on chicken drumsticks
Kosher salt and freshly ground black pepper
3 to 4 tablespoons honey
For the MANGO SALSA
1 large, firm mango, pitted and finely diced (see below)
1/2 firm avocado, diced
3 tablespoons finely diced red onion
1/4 cup (loosely packed) cilantro leaves
Grated zest and juice of
1/2 lime, or more to taste
Kosher salt and freshly ground black pepper
Cooking Directions
"This chicken is my pride and joy. My first born. My identical twin. The very first recipe to ever hit my blog, no other dish has evolved quite like this one. It started off with a hodgepodge of canned chipotles, a scoop of brown sugar, maybe some lime, a lumberjack's handful of garlic, and some vodka because why not. Measuring wasn't my strong suit in those days.
After countless comments simultaneously praising its flavor and dumping on how it . . . makes you . . . well, it was spicy . . . I decided to veer it more into socially acceptable spicy BBQ territory. But that was boring. Sure, it was tasty. Spicy. Tender. Sweet. But we aren't here just for good food!! We are here for food that'll make your taste buds jump! Food that makes people beg you for the recipe, but you deliberately leave one ingredient off, because that's your recipe, mmmkay?
This is that delicious, sweet, sweet baby of mine, perfected. And I didn't even leave any ingredients out. Love you."
MAKE THE CHIPOTLE SAUCE: In a blender or food processor, combine the chipotles, barbecue sauce, brown sugar, bourbon, garlic, and lime juice and process until smooth, about 30 seconds.
MAKE THE CHAACKEN: Season the chicken generously with salt and pepper and place the pieces in a glass baking dish or large zip-top bag. Add 2 cups of the chipotle sauce to coat the chicken. Refrigerate for at least 2 hours and up to 1 day.
Preheat the oven to 375°F. Line a baking sheet with foil.
Remove the chicken from the marinade (the chicken should still be nicely covered in it) and transfer to the baking sheet. Arrange the chicken in one layer. Bake until almost cooked through and the edges are beginning to be charred and crusty, about 35 minutes. Remove the chicken from the oven, brush with the remaining 1/2 cup chipotle sauce, drizzle with the honey, and return to the oven and bake until cooked through, about 10 minutes longer.
MEANWHILE, MAKE THE MANGO SALSA: In a bowl, toss together the mango, avocado, onion, cilantro, lime zest, lime juice, and salt and pepper to taste. Serve the chicken with the salsa.
NOTE: If you want, you can double the sauce and freeze half of it in a zip-top plastic bag so you can have some ready whenever you want it. (The alcohol keeps it scoopable even when frozen.) It's also great sauteed with shrimp.
Cutting a mango: To pit a mango, use a peeler to peel the mango, then turn it on its narrow side. Use a sharp knife and make a cut in the mango about 1/2 inch from where you think the center is. Press down, trying to cut as close to the pit as possible. Repeat with the other side so you have two nice oval-shaped pieces of mango. Dice or cut to your desired shape, and eat the piece with the pit yourself. You deserve it.
Reprinted from Cravings: Recipes for All the Food You Want to Eat. Copyright © 2016 by Chrissy Teigen. Photographs copyright © 2016 by Aubrie Pick. Published by Clarkson Potter/Publishers, an imprint of Penguin Random House LLC.
Recipe styled by Karen Pickus, chef/food stylist, "Good Morning America."
Recipe Summary
Main Ingredients: mango, chicken, chipotle chiles
Course: Dinner, Main Course, Lunch