Chocolate Biscuit Puffs
From the Comfort Food Diet Cookbook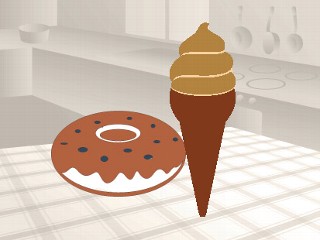 From the kitchen of Taste of Home
Ingredients
1 package refrigerated flaky buttermilk biscuits (7.5 ounces)
1 milk chocolate candy bar (1.55 ounces)
2 teaspoons cinnamon-sugar
Cooking Directions
Flatten each biscuit into a 3-in. circle. Break candy bar into 10 pieces; place a piece on each biscuit. Bring up edges to enclose candy and pinch to seal.
Place on an ungreased baking sheet. Sprinkle with cinnamon-sugar. Bake at 450° for 8-10 minutes or until golden brown.
Yield: 10.
Find all the recipes for Week One of Taste of Home's Comfort Food Diet Cookbook.
Nutritional Analysis: 1 puff equals 78 calories, 2 g fat (1 g saturated fat), 1 mg cholesterol, 185 mg sodium, 14 g carbohydrate, trace fiber, 2 g protein.
Diabetic Exchanges: 1 starch.
Recipe Summary
Main Ingredients: biscuits, chocolate
Course: Dessert, Snack
More Info: Kid Friendly