Waffleizer's Chocolate Chip Cookie Waffles
Waffle Wins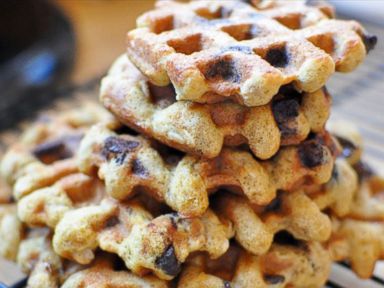 From the kitchen of Waffleizer
|
Your waffle iron is capable of so much more than you give it credit for. Let the appliance prove its worth with these Chocolate Chip Cookie Waffles from Waffleizer.
Ingredients
1/2 cup (1 stick) unsalted butter, melted
1/2 cup plus 2 tablespoons firmly packed light brown sugar
2 large eggs
1 teaspoon vanilla extract
3/4 cup unbleached all-purpose flour
1/2 teaspoon baking soda
1/4 teaspoon salt
3/4 cup old-fashioned rolled oats
3/4 cup semisweet chocolate chips
Cooking Directions
Preheat your waffle iron.
In a bowl, whisk the butter and brown sugar until smooth. Add the eggs and vanilla, whisking to incorporate. Stir in the flour, baking soda, and salt. Add the oats and chocolate chips and stir to combine.
Spray the waffle iron with nonstick cooking spray. Using a spoon or small scoop, place the dough onto each waffle section. Close the machine and cook until the cookies are set and beginning to brown. This won't take very long — probably two or three minutes, depending on the heat of your waffle iron. (They will be soft when you remove them and will firm up as they cool.) Transfer the cooked cookies to a wire rack.
Recipe courtesy Dan Shumski, Waffleizer blogger and author of the upcoming Will It Waffle?
Other Recipes That You Might Like