Tasting Table's Chocolate Crunch
Dessert For Your Inner Child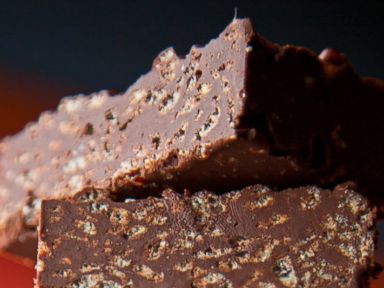 From the kitchen of Tasting Table
|
We all have fond memories of raiding the candy jar for our favorite sweets. But sometimes as adults, the bars we loved as children don't quite stack up to our more mature palate. For an even better experience, try making your own higher-quality version with TastingTable.com's recipe for Chocolate Crunch.
Ingredients
1 1/2 pounds dark chocolate, chopped
1/2 cup (1 stick) unsalted butter, cut into 4 pieces
2 tablespoons peanut butter
1 tablespoon honey
4 cups puffed rice cereal
Cooking Directions
In the top of a double boiler, melt the chocolate and butter. Add the peanut butter and honey and mix until combined. Remove from the heat, mix in the puffed rice and pour into a 9-inch square baking pan.
Let set in the refrigerator, at least 2 hours. Bring to room temperature before cutting into squares.
Recipe courtesy TastingTable.com.
Other Recipes That You Might Like