Tasting Table's Chorizo in a Blanket
Game Day Grub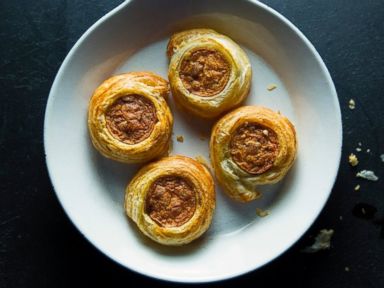 From the kitchen of Tasting Table
Sure, you could grab some frozen apps for your Super Bowl party. But why would you when you could make something as easy and delicious as homemade snacks from the Tasting Table test kitchen? Step up your game day grub this year with Chorizo in a Blanket.
Ingredients
1 egg
1 (14-ounce) package frozen puff pastry (such as Dufour), thawed
4 (5-inch) cooked chorizo sausage links (about 3/4 pound total, andouille can be substituted)
Dijon mustard, for serving
Cooking Directions
Preheat the oven to 375 degrees F. Line 2 baking sheets with parchment paper.
In a small bowl, beat the egg with 1 teaspoon of cold water.
Roll the puff pastry into a large 1/8-inch-thick rectangle, roughly 11-by-14 inches. Cut the dough into 4 (5 1/2-by-7-inch) rectangles. If possible, remove the casing from the chorizo and discard. Place a sausage on a shorter edge of a dough rectangle. Roll the dough tightly up and over the sausage until fully enclosed. Brush the opposite short end of the dough with the egg wash to seal. Cover with plastic wrap and freeze for 20 minutes.
Remove from the freezer and cut the sausages crosswise into 1/2-inch-thick wheels. Set 1 1/2 inches apart on the prepared baking sheets.
Brush each round all over with egg wash. Bake in the oven until the pastry is golden brown, 25 to 30 minutes. Serve hot, with Dijon mustard.
Recipe from the Tasting Table Test Kitchen.
Recipe Summary
Main Ingredients: eggs, frozen puff pastry, chorizo, dijon mustard
Course: Appetizer/Starter