Chris Cosentino's Treviso, Pomegranate and Pistachios
A Refreshing Way to Start Your Meal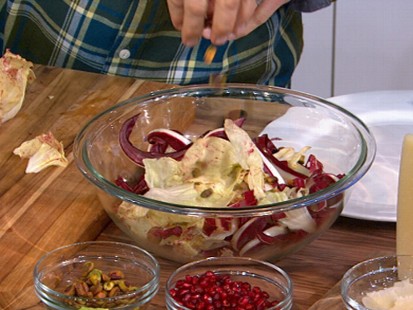 "Top Chef Masters" winner makes treviso, pomegranate and pistachios on "GMA."
From the kitchen of Chris Cosentino
|
Beginning with bitter flavors is a great way to awaken the palate. The two bitter ingredients here-Treviso radicchio and pomegranate-cancel each other out for a refreshing way to start a meal. This is the perfect example of how two negatives make a positive!
Ingredients
1/2 cup (2 oz/60 g) pistachio nuts
1 tbsp pure olive oil
Kosher salt and freshly ground black pepper
4 heads Treviso radicchio
1 pomegranate
3 tbsp Pomegranate & Chile Vinaigrette
Wedge of pecorino cheese for shaving
For the vinaigrette:
2 tablespoon each Zinfandel vinegar and pomegranate molasses
1 dried cascabel chile, split and seeded
1/4 cup (2 fl oz/60 ml) each pure olive oil and extra-virgin olive oil
1/4 teaspoon sugar
Kosher salt and freshly ground black pepper
Splash of fresh lemon juice
Cooking Directions
Preheat the oven to 350°F (180°C). In a small bowl, toss the pistachios with the olive oil and seasonlightly with salt and pepper. Spread the pistachios on a small rimmed baking sheet and toast in the oven until dry and fragrant, about 5 minutes. Transfer to a plate to cool.
Using a large knife, split each head of radicchio in half lengthwise. Remove the core from each radicchio half with a V-shaped cut. Cut 4 of the halves in half again lengthwise. Cut the remaining 4 halves crosswise into ribbons 1 inch (2.5 cm) wide. Put all of the radicchio in a large bowl.
Remove the seeds from the pomegranate: Cut the pomegranate in half crosswise. Working over a deep bowl filled halfway with water, place the fruit half in your hand with the exposed seeds facing down and your fingers slightly apart. Using awooden spoon, rap firmly on the pomegranate to release the seeds into the water. Repeat with the other half. You should have about 1/2 cup (3 oz/90 g) seeds.
Add the pomegranate seeds and toasted pistachios to the radicchio and season with salt and pepper. Drizzle the vinaigrette over the top and mix gently to coat evenly. Using a vegetable peeler, shave a few pecorino curls over the top and serve right away.
For the pomegranate and chile vinaigrette:
In a blender, combine the Zinfandel vinegar, pomegranate molasses, and chile. With the motor running, slowly
pour in both olive oils. Once the oils are incorporated, season with the sugar, 1/2 teaspoon salt, and pepper to taste. Then taste and adjust the final flavor balance with the lemon juice. Use right away, or cover and refrigerate for up to 2 days.
Recipe courtesy Chris Cosentino.
This recipe was styled by chef Karen Pickus for Good Morning America.
Other Recipes That You Might Like