Chris Powell's Chicken Stir-Fry
Easy and Delicious!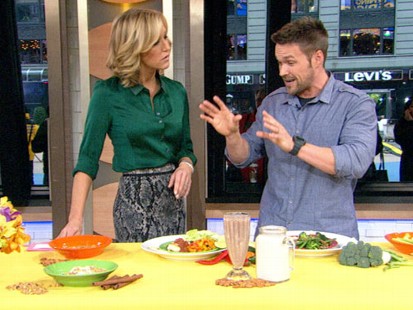 "Extreme Makeover: Weight Loss Edition" host reveals his tips to stay slim.
From the kitchen of Chris Powell
Was your New Year's resolution to lose weight? Trainer Chris Powell, of the hit show "Extreme Makeover: Weight Loss Edition," offers this tasty and healthy recipe to help you reach your goal!
Ingredients
3 ½ oz. cooked, sliced chicken breast
½ cup cooked long grain brown rice
3 cups (mixed) steamed broccoli, mushrooms, green beans, and water chestnuts
1 tsp. low-sodium soy sauce
Mrs. Dash (to taste)
Cooking Directions
Spray non-stick cooking spray in a skillet, and heat the chicken and vegetables.
Sprinkle with the Mrs. Dash and drizzle with the soy sauce.
Serve with rice and enjoy!
Recipe Summary
Main Ingredients: chicken, broccoli, mushrooms, green beans, water chestnuts
Course: Lunch, Dinner
More Info: Low Fat