Chris Powell's Chicken-Veggie Parmesan
Try This for a Blast of Flavor!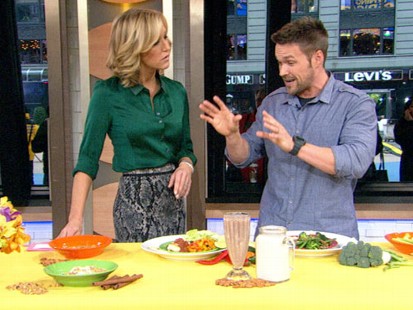 "Extreme Makeover: Weight Loss Edition" host reveals his tips to stay slim.
From the kitchen of Chris Powell
Was your New Year's resolution to lose weight? Trainer Chris Powell, of the hit show "Extreme Makeover: Weight Loss Edition," offers this tasty and healthy recipe to help you reach your goal!
Ingredients
4 oz. cooked, sliced chicken breast
3 cups (mixed) steamed, chopped zucchini, spinach, mushrooms
2 oz. low-fat Parmesan cheese
3 tbsps. Marinara sauce
Herb & Garlic Mrs. Dash (to taste)
Cooking Directions
Mix chicken with Zucchini, mushrooms and spinach. Heat on stovetop or microwave.
Sprinkle with Mrs. Dash and pour on marinara.
Melt cheese over the top in microwave and enjoy!
Recipe Summary
Main Ingredients: cooked, sliced chicken breast, parmesan cheese, marinara sauce, steamed, chopped zucchini, spinach, mushrooms
Course: Lunch, Snack
More Info: Low Fat