Mario Batali's Cinnamon Swirls
New Year Noms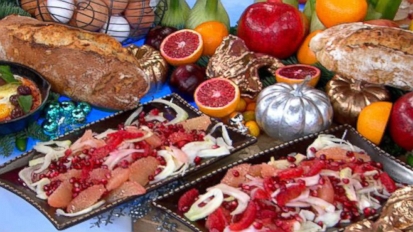 The celebrity chef whips up some of his favorite dishes.
From the kitchen of Mario Batali
|
Celebrity chef and "The Chew" co-host Mario Batali runs a global restaurant empire for a reason—the man makes good food. Start your New Year off right with one of his recipes for Cinnamon Swirls.
Ingredients
For the Rolls
1/2 pound pizza dough (You can buy dough from your local pizzeria.)
1/2 stick melted butter
1/2 cup granulated sugar
1 tablespoons cinnamon
Flour, for dusting
For the icing
2 cups powdered sugar
About 4 drops vanilla extract (optional)
1/4 cup boiling water
Cooking Directions
Preheat oven to 375 degrees F. Butter a small cake pan and set aside.
On a clean, floured surface, roll out the pizza dough using a rolling pin. When the dough is an 1/8 inch thick, pour the melted butter generously on top of the dough, spreading evenly. Sprinkle the sugar and cinnamon on top of that.
Carefully roll the dough, working away from you. Using a chef's knife, cut the dough into even slices, about 3 inches thick. Place the slices in the cake pan and bake for about 40 minutes.
While the rolls are baking, prepare the icing by placing powdered sugar in a bowl. Boil the water and pour in the sugar, while whisking. Add vanilla if you'd like. Check consistency. If it's too thick, add more water. If it's too loose, add more sugar.
Serve warm or at room temperature.
Recipe courtesy of Mario Batali.
This recipe was styled by chef Karen Pickus for Good Morning America.
Other Recipes That You Might Like