Zero Belly Cookbook's Classic Beef Burger
Try this yummy recipe to keep you on track of your weight-loss resolution this year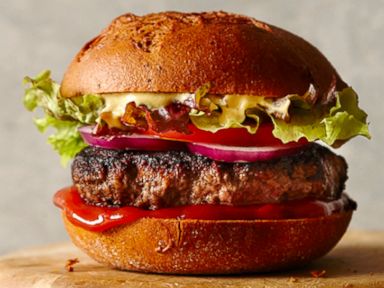 From the kitchen of Dave Zinczenko
|
Ingredients
1 lb extra-lean ground beef (at least 90%)
3 tbsp Black Pepper Marinade (below)
1 tsp kosher salt
4 gluten-free English muffins or burger buns, toasted
1 beefsteak tomato, cut into ½-inch slices
8 leaves Bibb lettuce
2 tbsp ketchup
2 tbsp Dijon mustard
Black Pepper Marinade
2 tbsp whole corriander seeds
2 tbsp whole black peppercorns
½ tbsp whole cumin seeds
6 cloves garlic, peeled
1 1-inch piece of fresh ginger, peeled and sliced thin
3 shallots, peeled and sliced thin
¼ cup extra-virgin olive oil
¼ cup (packed) brown sugar
Cooking Directions
In a large bowl, mix the ground beef, marinade, and salt and let sit for 10 minutes. • While the beef is marinating, heat an outdoor grill or a grill pan over medium-high heat.
Form the beef mixture into 4 patties and grill for 2 to 3 minutes on each side. The center should be pink and juicy.
Spread each toasted burger bun top with 1½ teaspoons ketchup and 1½ teaspoons mustard. Place a burger on each toasted burger bun bottom and top with slices of red tomato, 2 lettuce leaves, and a burger top.
PER SERVING: 343 calories / 9 g fat / 41 g carb / 2 g fiber / 25 g protein
Black Pepper Marinade
Grind the coriander seeds, pepper corns, and cumin seeds in a spice grinder or clean coffee grinder until very fine.
Add the remaining ingredients to the bowl of a small food processor and puree until smooth. Add the ground spices and process to incorporate.
Store in a glass jar in the fridge for up to 1 week.
Other Recipes That You Might Like